---
Shropshire aggregate and landscaping supplier Evans Aggregates has augmented its fleet of tipper trucks with two new Renault Range C460 8x4s. "Our business is expanding and we needed trucks that were up to the challenge," says MD Jonathan Evans.
Evans Aggregates' New Range C460s
The company uses 13 trucks—eight of them Renaults—to haul bulk and bag aggregates to its construction customers across Shropshire and the West Midlands. The two new Range C460 trucks, outfitted with Bulkrite insulated tipper bodies, were furnished by Tipton dealer Renault Trucks Commercials.
"The first Range C introduced back in 2016 has proved itself in terms of fuel consumption, payload, durability, and manoeuvrability, and the back-up has been first class," Evans said. "We took one Range C initially, which has worked well in our operation, so when we wanted some more, Renault Trucks was the natural first choice."
Evans' new strong but lightweight C460s weigh only 12,000 kilograms unladen, and yet they can transport a payload of up to 20 tonnes each. The Renaults' OptiTrack automated transmission, coming as it does with off-road mode as standard, helped to seal the deal.
"The Range C's ability to perfectly regulate the vehicle's speed whatever the terrain is a huge plus for us," says Evans. "We have been so delighted with the trucks that we have ordered another two Range C tippers for June 2020."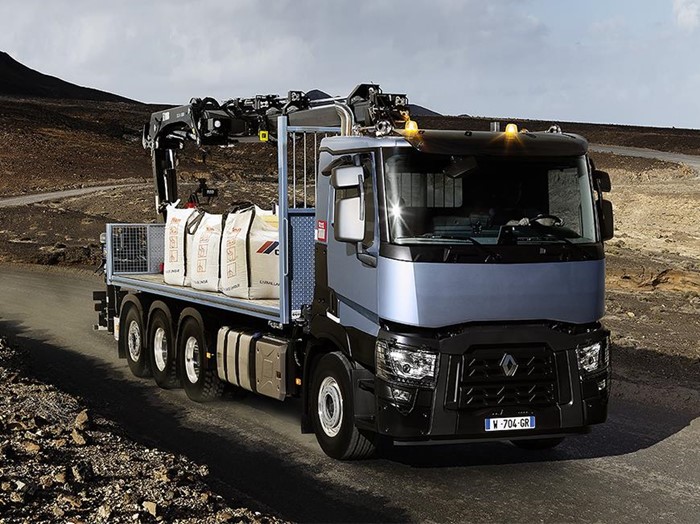 ---


Range C Features
The Renault Range C (the "C" stands for "construction") comes in day, day/night, and sleeper cab variants in gross vehicle weights of 18 to 32 tonnes and gross combined weights of up to 100 tonnes. It's available with 11- or 13-litre diesel engines rated from 380 to 520 horsepower (283 to 388 kilowatts). Fuel options include biodiesel and XTL synthetic fuel. Range C tractors come in 4x2 and 6x4 configurations, while rigid models range up to 8x4 tri-axles.
Recent Range Cs are available with active safety features such as emergency braking, blind spot sensors and cameras, lane keeping assistance, and an electric parking brake that automatically engages when the engine stops.
Find The Right Renault Truck
Truck Locator offers hundreds of new and used Renault trucks for sale, including a number of Range C Series vehicles.