---
XPO Logistics, a global transportation and logistics specialist, is relying on a fleet of 43 new-generation Mercedes-Benz Actros trucks to deliver parts to dealers across the United Kingdom. The dealers sell Mercedes-Benz trucks, vans, and cars and also service commercial vehicles used for emergency healthcare services, food distribution to supermarkets, and more.
XPO Logistics' new fleet primarily consists of Actros 2545 tractor units with StreamSpace cabs and 450-horsepower (330-kilowatt) 12.8-litre engines, as well as 17 Actros 1824 18-tonne rigid trucks with ClassicSpace cabs, 238-hp (175-kW) 7.7-litre engines, and Lawrence David curtain side bodies. The company purchased the 17 rigids outright, while the tractor units are leases that are expected to accrue 155,000 kilometres each year.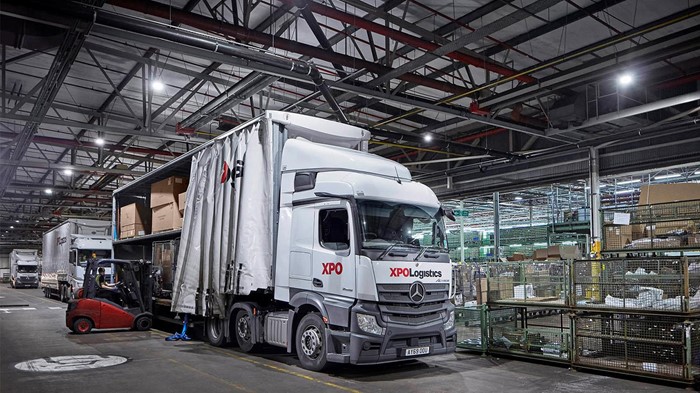 ---


So Far, So Good
Mercedes-Benz's European Logistics Centre and XPO Logistics began their five-year partnership earlier this year, and even during the COVID-19 pandemic, they have been able to maintain "first pick service rates that comfortably exceed 90%." The Actros models used to facilitate those deliveries are already getting positive feedback from drivers, according to Dan Myers, managing director, transport – UK & Ireland for XPO Logistics. He adds that the company will perform fuel efficiency analysis after the trucks have been in operation for six months and it also plans to take advantage of Daimler's Fleetboard telematics platform to monitor the vehicles.
"The early returns are certainly encouraging. Every indication is that the tailored solution we are providing will lower distribution costs and increase efficiency for Mercedes-Benz in UK parts operations," says Myers. "We'll be focusing on the 'whole life' operating costs of these vehicles. We have a high uptime target and most deliveries are being made at night, so detailed data capture and dealer backup, including responsive out of hours support, will be vital."
---


Mercedes-Benz Actros Details
The Actros is available as a rigid truck or tractor unit with axle configurations ranging from 4x2 to 6x4. There are 17 cab variants, including GigaSpace, BigSpace, StreamSpace, ClassicSpace, and CompactSpace L-cabs. Engine outputs range from 235 to 617 hp (175 to 460 kW) and from 1,000 to 3,000 newton-metres (738 to 2,213 pounds-foot) of max torque. Mercedes-Benz designed the Actros with long-distance haulage in mind; its Multimedia Cockpit combines ergonomic and connectivity refinements to allow operators to drive and live in comfort.
Standard safety features include the MirrorCam that replaces traditional mirrors to improve visibility while also improving aerodynamics on the exterior, a driver side airbag, Predictive Powertrain Control system and the Mercedes-Benz Safety Package, which includes Active Brake Assist with Proximity Control Assist and pedestrian recognition technology.
You will find a large selection of new and used Mercedes-Benz trucks for sale on Truck Locator, including hundreds of Actros models.