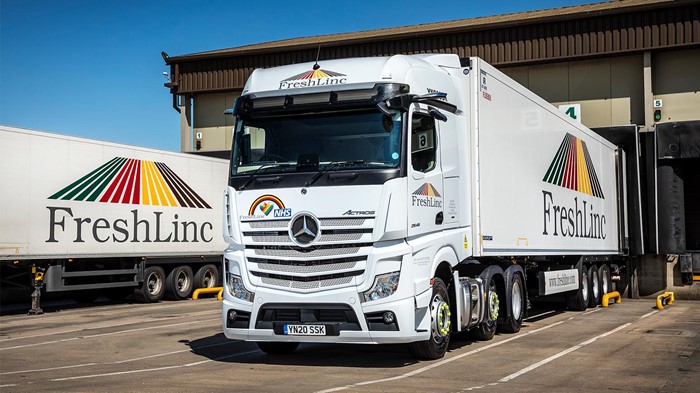 ---
A brightly logoed Mercedes-Benz Actros demonstrator model has been pulling double shifts doing supermarket deliveries for FreshLinc Group. Within a month, the Spalding, Lincolnshire, refrigerated distribution specialist was reportedly so impressed with the truck's fuel economy and other qualities that it placed an ordered for 14 more just like it.
"We were keen to utilise the new truck's full potential and very quickly established that its miles-per-gallon returns were in line with our expectations, which sealed the deal," says FreshLinc Fleet Engineer Andy Marchant.
A Fresh Demo
FreshLinc started to run the 6x2 Actros 2545 demonstrator in April following a six-month trial of another Actros last year. Like the others FreshLinc ordered, which are scheduled to arrive in October, the demo model has a BigSpace cab with a flat floor and a 450-horsepower (335-kilowatt), 12.8-litre, inline six-cylinder engine. Mercedes-Benz presented the truck to the food and beverage distributor via videocall with a question and answer session and vehicle documentation.
---
The Actros features Mercedes' MirrorCam instead of conventional mirrors, improving aerodynamics and visibility during cornering and reversing while lowering fuel costs by up to 1.5%. The truck comes standard with Active Brake Assist 5, which uses radar and cameras to fully brake for pedestrians at speeds of up to 50 km/h. An updated Predictive Powertrain Control system provides economy as well as ease of driving, while the upgraded Multimedia Cockpit in the cab features screens of up to 12 inches.
"The Actros has also been well accepted by our drivers," Marchant says. "They appreciate its general comfort, while the early feedback on features such as MirrorCam and the new dashboard is entirely positive."
Meet The Actros
The fifth-generation Actros, winner of the International Truck of the Year 2020 award, is built for long-distance haulage and heavy-duty distribution. The 18- to 33-tonne truck is available as a rigid or tractor unit with axle configurations ranging from 4x2 to 6x4. There are 17 cab variants in two widths, with roof shape options such as GigaSpace, BigSpace, StreamSpace, ClassicSpace, and CompactSpace. Euro VI engine outputs range from 238 to 625 horsepower (175 to 460 kilowatts) and from 1,000 to 3,000 newton-metres (738 to 2,213 pounds-foot) of max torque.
---
The Actros' Multimedia Cockpit combines ergonomic and connectivity refinements to allow operators to drive and live in comfort. Standard safety features include a driver side airbag and the Mercedes-Benz Safety Package, which includes Active Brake Assist with Proximity Control Assist and pedestrian recognition technology.
Find The Right Mercedes-Benz Actros For Your Operation
Feel free to peruse Truck Locator for a variety of new and used Mercedes-Benz trucks available for purchase, including hundreds of Actros models.