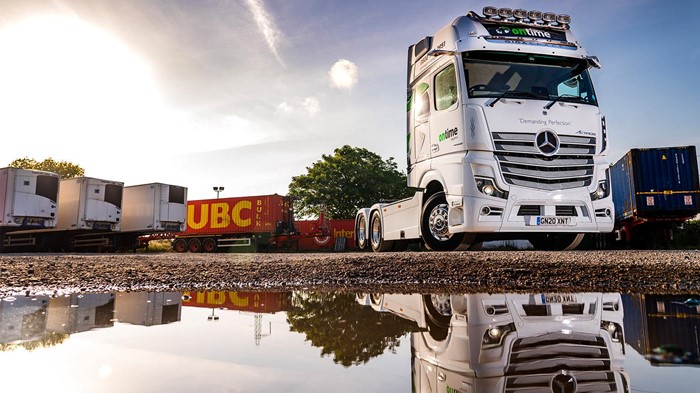 ---
Ontime Logistics' newest Mercedes-Benz Actros has all the bells and whistles, making it a brand showcase for the Kent-based container transport and logistics service. The Actros 2663 offers a range-topping 460 kW (625 hp) 15.6-litre six-cylinder engine, as well as a GigaSpace cab, colour-coded bumpers, high-performance bi-xenon headlamps, a Jost sliding fifth wheel, Alcoa alloy wheels, and a back-lit star in the grille. Ontime Logistics also had the tractor unit fitted with a second, 350-litre fuel tank in addition to its standard, 290-litre tank.
A Fleet Of Actros
The new Actros tractor joins several other Actros units in Ontime Logistics fleet, including two other 2020 models, also with GigaSpace cabs. These 2553 variants entered Ontime Logistics service last autumn and boast 12.8-litre straight-sixes rated at 390 kW (530 hp). "The Actros has proved to be fuel-efficient and popular with our drivers—we like to make the guys as comfortable and safe as possible, so send them out in high-end equipment with fridges, microwaves, and lots of other extras," says Ontime Logistics proprietor Wayne Baber. "They're big fans of the Mercedes-Benz, which is beautifully built and lovely to drive. They seem always to get a good night's sleep, as well."
---


Actros Options
The Actros is available as a rigid truck or tractor unit with axle configurations ranging from 4x2 to 6x4. There are 17 cab variants, including GigaSpace, BigSpace, StreamSpace, ClassicSpace, and CompactSpace L-cabs. Engine outputs range from 235 to 617 horsepower (175 to 460 kilowatts) and from 1,000 to 3,000 newton-metres (738 to 2,213 pounds-foot) of max torque. Mercedes-Benz designed the Actros with long-distance haulage in mind; its Multimedia Cockpit combines ergonomic and connectivity refinements to allow operators to drive and live in comfort.
Standard safety features include the MirrorCam (which replaces traditional mirrors to improve visibility while also improving aerodynamics on the exterior), a driver side airbag, Predictive Powertrain Control system, and the Mercedes-Benz Safety Package, which includes Active Brake Assist with Proximity Control Assist and pedestrian recognition technology.
---


Find The Right Mercedes-Benz Actros For Your Operation
Truck Locator has a fine selection of new and used Actros trucks and other Mercedes-Benz models for sale.