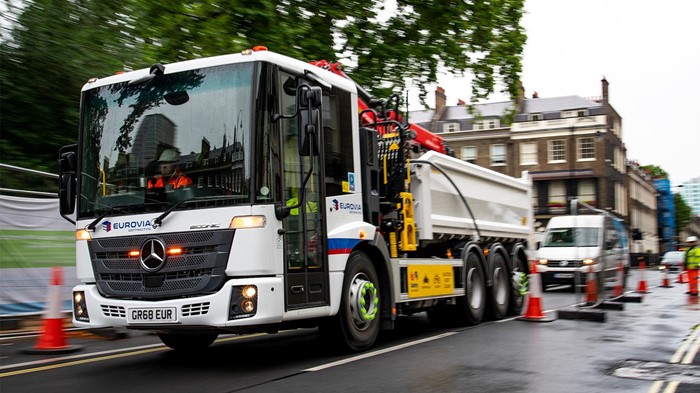 ---
Eurovia Contracting, an engineering services provider based in West Sussex, recently added a new Mercedes-Benz Econic 3235L ENA tipper-grab truck to its fleet. The company is no stranger to the brand and currently runs 20 Econic vacuum tankers. It features a low-entry chassis, a low driver seating position, a large windscreen, and a bus-like door, all of which make it a great candidate for operating in urban settings. In fact, the Econic's five-star Direct Vision Standard rating from Transport for London was chief among Eurovia's criteria for choosing the truck.
"Direct vision is crucial to the safety of our own crews, and of the public with whom we share road space," says Eurovia's Fleet and Plant Operations Manager Chris Forrest. "There are no huge blind spots impeding the view from the wheel of an Econic. Drivers are also much closer to other people on the road, which means they can see so much more than is possible from a traditional, high-riding construction truck. "The TfL Direct Vision Standard actively encourages operators working in the capital to choose the safest vehicles. These benefits are universal, though, which is why we've chosen to roll out this type of vehicle for all of our urban tipper and tipper-grab operations throughout the entire country."
---


Other Standout Features
Eurovia Contracting's new 32-tonne Econic features a 7.7-litre 354-horsepower (260-kilowatt) engine, 12-speed PowerShift 3 automated manual transmission, and Active Brake Assist 4 with emergency braking. Being the ENA configuration means the truck has a "single front rear axle, double-drive bogie, and rear-steer axle," according to Mercedes-Benz, which means it is more manoeuvrable than other 8x4 vehicles.
It also has a tipping body from Thompsons coupled with a Palfinger Epsilon crane with a max reach of 8.2 metres and maximum lifting capacity of 3,700 kilograms. In addition to serving as a tipper truck, the Econic platform is also well-suited for refrigerated transport, refuse collection, concrete mixing, and more.
---


More Mercedes-Benz Econic Details
The versatile Econic platform is highly configurable, with four axle variants ranging from 18 to 32 t in gross weight. It comes in low and high cab versions with wheelbases of 3,450 to 5,700 millimetres. Either the leading or the trailing axles can be steerable. Each axle has a full air suspension that is adjustable for height.
Mercedes-Benz outfits the Econic line with 7.7-litre, inline six-cylinder engines. Diesel-burning models range from 272 to 354 hp (260 kW). An alternative that runs on natural gas or biogas produces 302 hp (225 kW) and comes with a low 80 dB(A) noise rating. Besides the Allison automatic mentioned above, Mercedes offers the Econic with a semi-automated PowerShift transmission with 12 forward and four reverse gears.
Find The Right Mercedes-Benz Truck
There are hundreds of new and used Mercedes-Benz trucks and vans for sale on Truck Locator, including Econics as well as Actros, Atego, Axor, and Sprinter models.