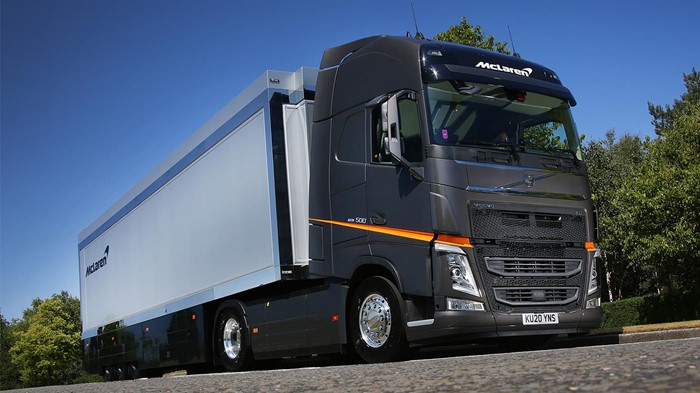 ---
McLaren Racing recently put a new fleet of 24 Volvo FH tractor units on the road to Spielberg, Austria, for the first Formula 1 race of the season on June 5. All of the FHs are 4x2 left-hand-drive vehicles equipped with Globetrotter XL sleeper cabs and have Mammoth Tree Metallic grey paint and papaya orange accents on the exterior. Inside the trucks boast full leather, refrigerator-freezer units, microwaves, and coffee makers.
Other shared features include TomTom navigation, tyre pressure monitoring, I-See predictive cruise control, adaptive cruise control, lane changing support, and lane keeping assist as well as support from the Volvo Dynafleet fleet management platform. Each of McLaren's trucks are expected to travel 12,000 miles (19,312 kilometers) every season; they are covered by Volvo Gold Contracts, which include roadside assistance in addition to repair and maintenance.
Efficiency, Performance & Reliability
Of the 24 Volvo FHs, 17 have 540-horsepower (403-kilowatt) engines, X-Low chassis, and fifth wheels ideal for hauling mega cube trailers. According to Volvo, these trucks "are primarily used to transport hospitality equipment." The other seven trucks in the fleet feature 500-horsepower (373-kW) Euro 6 Step D engines, medium chassis, and the I-Save suite of fuel efficiency technologies. Volvo says these vehicles can produce as much as 300 Newton-metres more torque, meaning they require "less acceleration and fuel" to maintain "a steady speed in motorway traffic." The lead truck in the fleet features an I-Shift Dual Clutch transmission and Volvo Dynamic Steering. It hauls the team's car transporter trailer.
---
"This is our fifth year running an all-Volvo fleet and the backup both in the UK and across Europe has been amazing," says Ian Barnard, transport manager at McLaren Racing. "We've never had a problem with one of the trucks, but we've called Volvo Action Service out to help with trailer issues and they have always got us moving again, and fast. It's a huge weight off our minds."
More Volvo FH Details
Volvo designs the FH series for minimum air resistance and maximum uptime. The truck comes with your choice of five sleeper cab configurations ranging from a flat top to high-roof Globetrotter variants. The FH is also available as a rigid truck. Engine options include six-cylinder diesels ranging from 420 to 540 hp (313 to 403 kW) and 2,100 to 2,800 N-m of torque. The truck comes in axle configurations ranging from 4x2 all the way up to 10x4.
There are hundreds of new and used Volvo trucks for sale on Truck Locator, including a large selection of FHs.