---
Volvo Trucks is now taking orders for an Unlimited Edition of its FH truck as a 6x2 pusher or tag axle tractor. The special-edition vehicle sports top-shelf exterior and interior features as well as active and passive safety systems. The manufacturer pledges to donate £1,000 to NHS Charities Together for every FH Unlimited Edition truck it sells in the UK.
"With the Volvo FH Unlimited Edition we're taking the very definition of premium to the next level, with a model where every single component and feature is designed to deliver productivity, performance, safety, and driving pleasure," says Volvo Trucks UK Head of Product Management John Comer. "Plus we're including a three-year subscription to Volvo Connect, allowing operators to access driver, vehicle, and position data in real time at the office, and manage efficiencies through the driver app. With this level of performance information at their fingertips, customers will be able to see in an instant the tweaks they need to make to secure a genuine improvement in profitability."
---


Luxury Inside & Out
The Volvo FH Unlimited Edition comes with a Globetrotter XL cab, Dura Bright alloy wheels, and chrome detail work. Its chassis is finished in Conger Black premium paint, and its body is bathed in a Clearcoat Baiguini Blue or Titan Silver Metallic finish. (Fleet customers can order custom paint colours in solid or metallic hues.)
Volvo says the FH Unlimited Edition's three driveline options are for fuel economy, productivity and performance, or power, so customers can tailor the special truck offering to their needs. There's an FH 500 version with I-Save, which boasts a turbo-compound engine that provides an additional 300 Newton-metres of low-end torque. Another FH 500 variant comes with the I-Shift Dual Clutch gearbox for performance applications requiring frequent shifting. On the top of the power and torque spectrum is the FH 540 with a regular I-Shift transmission. All three Unlimited Edition models feature Volvo's Long Haul Fuel Package+, which includes long-haul gear changing software with I-Roll and the newest I-See predictive cruise control.
The interior of the FH Unlimited Edition is done up in black from the premium leather upholstery and steering wheel to the seats and door panels. The driver's seat is electrically adjustable. A 7-inch touchscreen provides information and control over the truck's operation. A refrigerator comes as standard under the single bunk. The FH also comes prepared for microwave and television installation.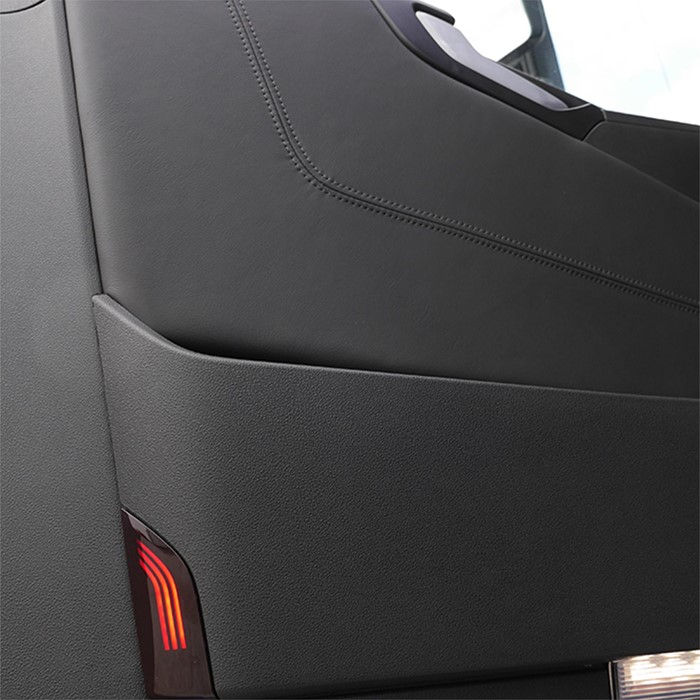 ---


High-Tech Safety
Volvo outfits each FH Unlimited Edition with its Adaptive Cruise Control with Collision Warning and Advanced Emergency Brake, Volvo Dynamic Steering, Lane Keeping Assist, and Lane Changing Support. Every truck also comes equipped with Volvo's Visibility Plus package, which includes rain-sensing windscreen wipers, automatically switching Bi-Xenon headlights with washer jets, fog lights, and static cornering lights.
Find The Right Volvo FH
The listings on Truck Locator bring buyers and sellers together over hundreds of new and used Volvo trucks for sale, including a big selection of Volvo FHs.