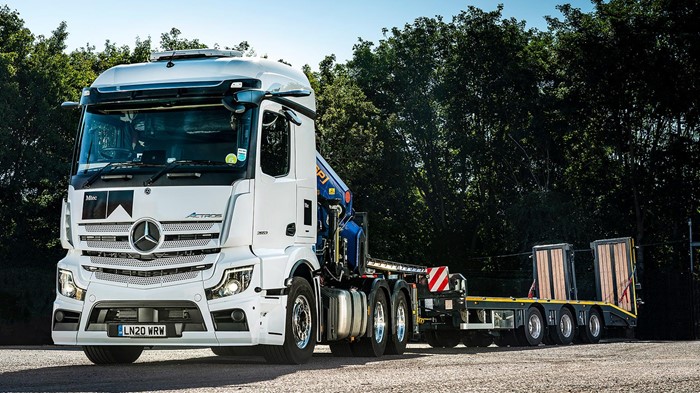 ---
Mtec, an art transport, installation, and storage company based in Ware, Hertfordshire, recently obtained a Mercedes-Benz Actros 2653 with a gross combination weight of 80 tonnes for use in hauling sculptures. Supplied by S & B Commercials, the 6x4 tractor unit features a 530-horsepower (395-kilowatt) 12.8-litre engine, a StreamSpace cab, and a PM 50.26 crane. It will be coupled with either a demountable dropside body or beavertail trailer. Mtec operates a 20-truck fleet, most of which are Mercedes-Benz vehicles, including other heavy haulage Actros models and an Atego box truck.
Mtec's newest truck from the marque is a new-generation Actros, as evidenced by the Multimedia Cockpit and MirrorCam system that replaces traditional mirrors with cameras and A-pillar-mounted displays to reduce blind spots. The company also opted to upgrade to a 12-inch instrument panel on the interior and added an Extra Line package with LED indicators and position lamps. Other features include Alcoa Dura-Bright alloy wheels, a water retarder, auxiliary air conditioning, Active Brake Assist with emergency braking, Predictive Powertrain Control, and more. The truck is also covered by an eight-year Complete Service Contract.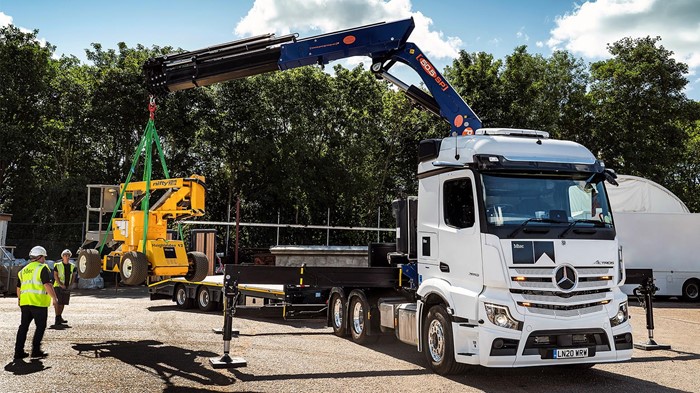 ---


"A Highly Practical Solution"
"Manoeuvring a tractor and trailer can be a challenge at places like Kew Gardens, and some of the stately homes we visit," says Mtec Managing Director David Williams. "It's obviously not an option for the heaviest sculptures, which can often weigh in excess of 50 tonnes. But for smaller pieces, the demountable body and drawbar configuration allows us to crane the item off the trailer and then take it in on the truck itself. It's a highly practical solution that's already working very well. We've always chosen Mercedes-Benz trucks for their cutting-edge design and features, as well as their outstanding reliability and the manufacturer's unrivalled back-up on the Continent."
More Mercedes-Benz Actros Details
The fifth-generation Actros, winner of International Truck of the Year 2020, is built for long-distance haulage and heavy-duty distribution. The 18- to 33-tonne truck is available as a rigid or tractor unit with axle configurations ranging from 4x2 to 6x4. There are 17 cab variants in two widths, with roof shape options such as GigaSpace, BigSpace, StreamSpace, ClassicSpace, and CompactSpace. Euro VI engine outputs range from 238 to 625 hp (175 to 460 kW) and from 1,000 to 3,000 newton-metres of max torque.
---
The Actros' Multimedia Cockpit combines ergonomic and connectivity refinements to allow operators to drive and live in comfort. Standard safety features include a driver side airbag and the Mercedes-Benz Safety Package, which in turn includes Active Brake Assist with Proximity Control Assist and pedestrian recognition technology.
Find The Right Mercedes-Benz Truck
You will find hundreds of new and used Mercedes-Benz trucks for sale on Truck Locator, including a huge selection of Actros models.