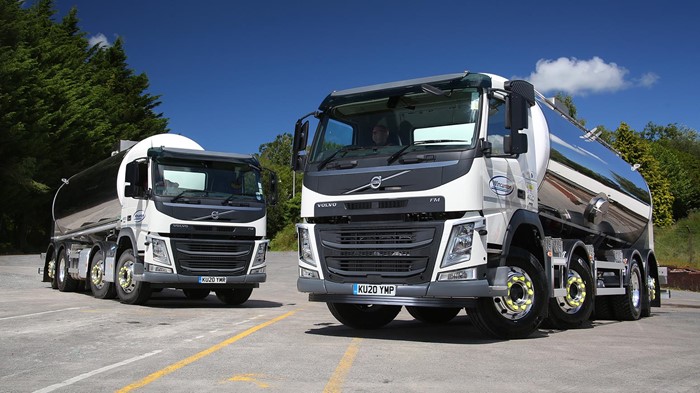 ---
Wincanton Group, a supply chain and logistics service provider based in Wiltshire, recently added to new Volvo FM trucks to its 3,600-vehicle fleet on five-year leases. The FM 8x2 tanker trucks are equipped with D11K Euro 6 engines that produce 430 horsepower (321 kilowatts) and 2,050 newton-metres of torque, as well as Sayers Road Tankers bodywork on 5,100-millimetre wheelbases. The trucks will work 24 hours a day, seven days a week, and are expected to cover as many as 180,000 kilometres each year as they collect milk from farms in South Wales in volumes of up to 89,000 litres per day.
The two Volvo FMs also feature several driver assistance and safety features, including predictive cruise control, forward collision warning and lane departure warning as well as a Driver Alert Support system that can detect fatigue and notify the driver. Other features include a four-way camera system, park brake alarm, reverse alarm, and a Cornerscan obstacle detection system from Brigade.
---


High-Spec & Hardworking
"These are very high-spec tankers built for a specific contract, and Volvo could meet the precise configuration we needed. They'll be serviced and maintained through Volvo and we know from previous experience that we'll receive fantastic support," says Dave Rowlands, technical services director at Wincanton. "Quality and safety are also key to milk transportation; it's something that runs deep within our heritage and Volvo shares the same values. We're confident these new trucks are amongst the safest and most efficient of their type on the road, offering maximum reliability on a contract where they literally never stop working, except for planned maintenance."
---


More Volvo FM Details
Volvo FM trucks are available with standard day, sleeper, and low sleeper cabs or with Globetrotter or Globetrotter LXL cabs. There are three Euro 6 engine options, including the D11K, D13K, and G13C, ranging from 330 to 500 horsepower (246 to 373 kW) and producing between 1,600 and 2,500 newton-metres (1,180 and 1,844 pounds-foot) of torque. There is also a version of the FM that runs on LNG (liquefied natural gas), which puts off fewer emissions while producing between 420 and 460 hp (313 and 343 kW) and between 2,100 and 2,300 N-m (1,550 and 1,696 lbf-ft) of torque.
I-Shift transmissions come standard on all Volvo FM models, but there is a wide range of available software packages tailored to distribution, construction, long haul trucking, and heavy-duty transport applications. Other technologies on this range include adaptive cruise control, lane changing support, electronic stability program, and driver alert support.
Find The Right Volvo Truck
You will find hundreds of new and used Volvo trucks for sale on Truck Locator, including a large selection of FMs.