---
After participating in the Dedicated to Gas project, a UK trial that demonstrated the viability of natural gas and biomethane as alternatives to diesel for heavy-goods vehicles, global logistics provider Kuehne+Nagel ordered eight Volvo FH LNG (liquified natural gas) tractor units for two major contracts on UK truck routes.
"We'd previously run dual-fuel trucks for seven years, but it was our involvement in the Dedicated to Gas trials which confirmed that LNG was the right approach to take," says Andrew Blake, national distribution manager at Kuehne+Nagel. "We're projecting an initial 20% reduction in CO2 emissions on these routes using standard LNG, with the intention of moving quickly to bio-LNG to increase this reduction to at least 80% in the near future."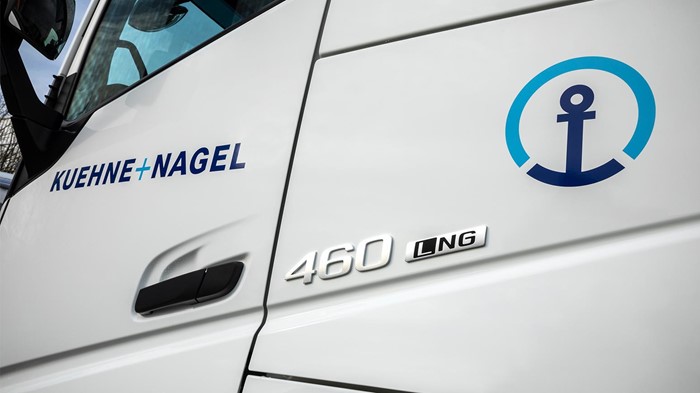 ---


Real Globetrotters
All of the eight new Volvo FH LNG models are 6x2 pusher-axle tractors featuring 155-kilogram (341-pound) LNG tanks. Kuehne+Nagel particularly likes Volvo's approach to natural gas, which uses compression-igniting technology and enables the Volvo G13C engine to deliver the same 460 horsepower (338 kilowatts) and 2,300 newton-metres of torque as the diesel-only counterpart.
"From an engineering perspective, we have absolute confidence in Volvo's natural gas powertrain to deliver the performance we need in an intensive around-the-clock, 44-tonne application," says Blake. "We looked at the spark ignition options available in other vehicles, but we didn't want any trade-off in terms of performance or fuel efficiency."
Kuehne+Nagel configured the FH LNG tractors with the FH Globetrotter cab, Volvo's 12-speed I-Shift automated transmission, and I-See predictive cruise control system.
---


The Volvo FH LNG
Volvo says the G13C engine provides matching service intervals and reliability to the diesel D13K. The LNG lineup also provides the same fuel efficiency as the diesel-powered equivalent, and because LNG is often cheaper, operators have the chance to reduce fuel costs. The operating range of the FH LNG makes the tractor unit suitable for regional and long-haul transport, and there are three tank sizes available (115, 155, or 205 kg) for an operating range of up to 1,000 kilometres (621 miles).
You will find hundreds of new and used Volvo trucks for sale on Truck Locator, including a big selection of FH models.