---
H. Freund specialises in the transportation and storage of bulk plastics, PVC resins, and industrial powders and has operating bases across Belgium, Germany, Spain, and the UK. When it came time to select new tractor units, the Runcorn-based logistics specialist consulted its drivers, who use the trucks five days a week and cover up to 130,000 kilometres (80,778 miles) per annum. The resulting conversations and previous experience with Thomas Hardie Commercials ultimately led to the firm receiving four new 44-tonne Volvo FH tractor units with Volvo's range-topping Globetrotter XL cabs.
Premium Trucks
All four of the new additions have a 4,000-millimetre wheelbase with a fixed pusher axle and rear air-suspension. The Volvo FH tractor units are powered by Volvo's proven D13K Euro 6 Step D-compliant diesel engine producing up to 540 horsepower (402 kilowatts) between 1,400 and 1,800 rpm. H. Freund's new Volvo FH vehicles also feature the 12-speed I-Shift automated gearbox that evaluates speed, weight, road grade, and torque in real-time to precisely shift for maximum performance and fuel efficiency.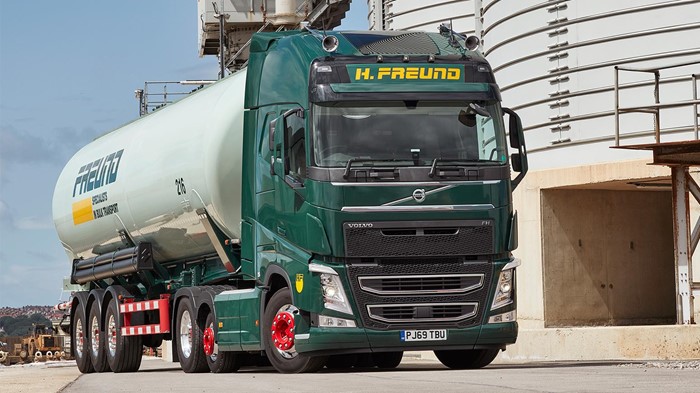 ---
"We operate on a one-driver, one-truck basis, so driver satisfaction is key, and they absolutely love the Volvos," says H. Freund Transport Manager Phil Moore. "Having plenty of pulling power to handle our fully laden dry bulk tanker trailers is also vital, so the 540-hp engine was the right way to go."
More On The Volvo FH
Winner of the International Truck of the Year in 1994, 2000, and 2014, Volvo's FH has a lengthy and successful history. Volvo announced a new generation of Volvo FH tractors and rigid trucks earlier this year, highlighted by the latest efficiency technologies and safety features. The FH16 is the new flagship in the heavy-duty truck lineup, featuring a six-cylinder 16-litre Euro 6 D16K engine that outputs from 550 to 750 horsepower (410 to 560 kilowatts) and 2,800 to 3,550 newton-metres of torque. FH16 tractor and rigid variants are available, and axle configuration options include 4x2, 6x2, 8x2, 8x4, and 10x4.
---
A wide selection of FH 13 and FH LNG tractor configurations are also available. Features like I-Save help reduce fuel consumption and improve torque in long-haul operations. Volvo FH trucks with Euro 3 and Euro 5 engines can also utilise Volvo Torque Assist to deliver fuel savings. Safety features like adaptive high beam headlights, adaptive cruise control, downhill cruise control, and an electronically controlled braking system can be found throughout the new generation Volvo FH series.
Find Your Volvo Truck
Truck Locator's online marketplace is the industry's go-to source for hundreds of new and used Volvo trucks for sale every day, including a big selection of Volvo FH models.