---
Neil Painting Master Thatcher Ltd, a thatching services provider based in Brackley, Northamptonshire, recently purchased a FUSO Canter 3C15 with a Brit-Tipp tipping body and tow hook. The truck was originally a demonstrator model and accrued nearly 7,000 miles (11,265 kilometres) in that role for Intercounty Truck & Van, a Mercedes-Benz dealer with a branch in Milton Keynes. The 3.5-tonner, which also has a towing capacity of 3.5 t, will deliver straw and reed for roof repairs and other jobs for Owner Neil Painting.
Painting's FUSO Canter has 3.0-litre turbo-diesel engine that produces 150 horsepower (110 kilowatts) and 370 newton-metres of torque, and a DUONIC automated dual-clutch gearbox that features several functions, including Eco Mode, Creep, and Parking. This particular vehicle is on the lower end of the Canter range in terms of gross vehicle weight, as the range includes models with GVWs of between 3.5 and 8.55 t.
---


A Worthy Replacement
The Canter replaces a pickup truck that used to handle its deliveries, but it didn't have the payload capacity necessary to handle the job. Painting says that dropside vans, for example, also don't make the cut because they "don't provide the toughness and durability we need." For that reason, the company opted for FUSO tipper, which can haul more materials per trip for maximum efficiency.
"I did also consider a similar vehicle by another Japanese manufacturer, but I didn't think its 1.9-litre engine would be up to the job. I'm sure I made the right decision, because the Canter pulls and handles really well, even when we've a full load on," says Painting. "It's also surprisingly comfortable, and spacious enough to accommodate three members of the team. The very tight turning circle means it's highly manoeuvrable, too, which is a big advantage when we're working at locations with restricted access."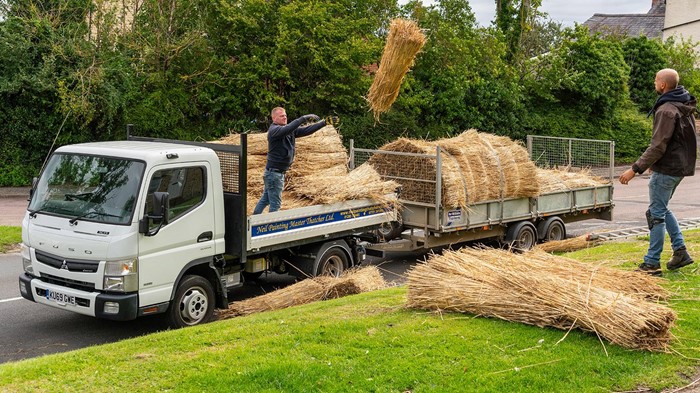 ---


More FUSO Canter Details
The FUSO Canter, distributed by Mercedes-Benz Trucks in Europe, is a versatile truck designed for a wide range of applications, including delivery, construction, landscaping, snow ploughing, and much more. Models range from 3.5 to 8.55 t, with chassis load capacities ranging from 1.6 to 6 t. Engine outputs range from 130 to 175 hp (97 to 130 kW), and there are options for manual or automatic transmissions, depending on the model.
FUSO offers a 4x4 version of the Canter with all-wheel drive for handling challenging terrain as well as the 100% emission-free eCanter model. The eCanter features an electric motor that produces up to 156 horsepower (116 kW) and 390 N-m of torque. It charges fully in seven hours, with a one-hour fast charge available, and has a range of 62 miles (100 km) with a full payload.
Find The Right FUSO
You will find a huge selection of new and used FUSO and Mercedes-Benz trucks for sale on Truck Locator.