---
Booths, a supermarket chain headquartered in Preston, recently purchased four DAF CF 480 FTG trucks after also evaluating vehicles from two other manufacturers. Each of the 6x2 tractor units features a Space Cab, a 480-horsepower (358-kilowatt) PACCAR MX-13 engine, and a twin-steer axle. They are also covered by DAF MultiSupport repair and maintenance packages.
These aren't the first DAF CFs to join the company's 35-vehicle mixed fleet of tractors and rigids. Booths added its first CF, a 44-tonner, 15 years ago, and currently has a 10-year-old CF with nearly 1 million kilometres on it. The company opted for the Comfort Package with its most recent additions, featuring a number of interior upgrades.
"Our drivers really like the DAF Space Cab," says Booths Transport Manager Craig Stopforth. "The Comfort Package includes touchscreen navigation, leather seats, Bluetooth and lots of creature comforts. While operations rarely require an overnight, the bunk provides ample space and it's well appreciated by the drivers. If they're happy, they'll look after their trucks and are far more likely to get the best out of them."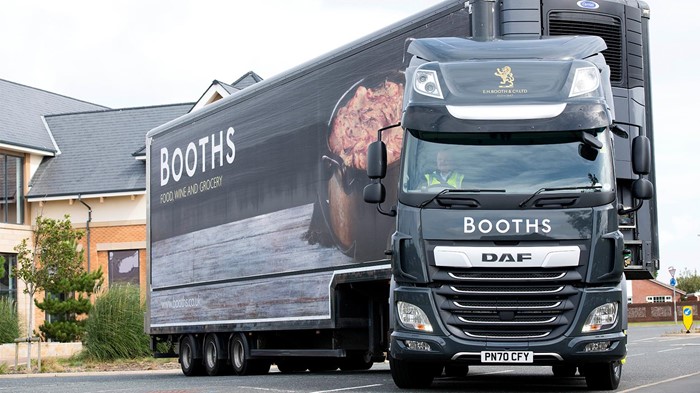 ---


Longevity
"Everything's on local deliveries, so annual mileage is never excessive," Stopforth says. "However, our 10-year-old CF has delivered fantastic reliability and it's still going strong. The 480-bhp DAFs are ideal for our operation, fully loaded and with double-deck trailers, they're on regular runs over Blubberhouses and returning exceptional fuel economy. If they can do that, they can do anything. We know we'll get longevity from these four new DAF additions."
More DAF CF Details
The DAF CF is a versatile vehicle designed specifically for local, regional, national, and international distribution. It's available with a PACCAR PX-7, MX-11, or MX-13 engine that produces between 234 and 530 hp (174 and 395 kW) and from 900 to 2,600 newton-metres of torque. Transmission options include 12- or 16-speed TraXon automated gearboxes. The drive can also choose between an Eco Performance Mode to achieve a balance of performance and efficiency or choose Eco Fuel Mode to boost fuel economy.
---
Safety is also an important part of the CF's DNA, as the truck is available with several standard and optional driver assistance systems, including adaptive and predictive cruise control. Other examples include forward collision warning, advanced emergency braking, lane departure warning, vehicle stability control, tyre pressure monitoring, and battery energy monitoring. The cab also features crumple zones in the front and rear designed to keep the driver safe in the event of a collision.
Find The Right DAF
You will find hundreds of new and used DAF trucks for sale on Truck Locator, including a large selection of CFs, LFs, and XFs.