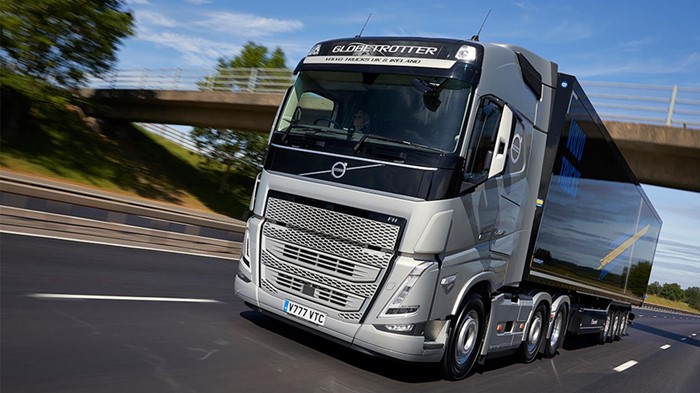 ---
Volvo recently announced that customers in the UK and Ireland can now order a new generation FH with I-Save. The manufacturer says the newest iteration of I-Save not only improves fuel efficiency by 10% over the standard FH, but also marks a 3% improvement over the 2019 iteration. At the core is a 13-litre Volvo D13TC Euro 6 Step D engine that produces between 460 and 500 horsepower (343 and 373 kilowatts) and from 2,600 to 2,800 newton-metres of torque. Volvo says the turbo compound engine is its most fuel-efficient engine to date.
More Efficient By Design
There are several other features and technologies that contribute to reduced fuel consumption. One is I-See, which uses topographical data to plan ahead and use the truck's own kinetic energy during operation, something it can do "even on roads that look flat to the human eye," Volvo says. Others include the I-Shift transmission with smoother gear shifting and an Eco mode, I-Cruise with I-Roll for speed adjustments, I-Save for torque optimisation, and an idle shutdown feature as well as a variable power steering pump and a more efficient rear axle. Volvo also made the exterior design of the FH more aerodynamic for further fuel savings.
---


Better For The Environment, Better For Your Bottom Line
"Cutting fuel consumption and, as a result, reducing CO2 emissions is crucial for all transport companies, especially those with long-haul operations," says Jessica Sandström, senior vice president, product management at Volvo Trucks. "With the new Volvo FH with I-Save, we give hauliers even greater opportunities to reduce their operating costs and environmental impact. The combination of low fuel consumption, low noise levels, and good driveability has garnered a very positive response. Plus, even greater savings can be achieved in practice, since most customers who buy the new Volvo FH with I-Save will switch from older trucks with higher fuel consumption."
Find Your Next Volvo
You will find hundreds of new and used Volvo trucks for sale on Truck Locator, including a large selection of FHs, FLs, FMs, and FMXs.