---
DHL Supply Chain recently added the first 16-tonne, all-electric truck in the United Kingdom to its London-based fleet, a Volvo FL Electric 4x2 rigid. The vehicle runs on four 200-kilowatt-hour batteries that give it a 120-mile (193-kilometre) operating range while hauling up to 12 pallets with a maximum weight of 6 tonnes.
The zero-emission FL Electric will handle last-mile deliveries in London's West End shopping district and recharge its batteries overnight at DHL's Purfleet location. Its home base is fitting as the vehicle not only meets the London Direct Vision Standard with a three-star rating, but it will also help to reduce noise and air pollution while working in the London Ultra Low Emission Zone.
DHL adding the FL Electric is part of its GoGreen initiative, a program aimed at reducing carbon dioxide emissions in the transport industry. This is key because, based on research requested by DHL, the ground-based transportation continues to be important. In fact, Volvo says 71% of transport decision makers say that it's a "strategic component of their business," while 75% say "investment in this area will directly support growth." As the transport industry is already a major contributor to emissions, DHL believes it needs to play a role in introducing zero-emission vehicles and other solutions that will help the environment.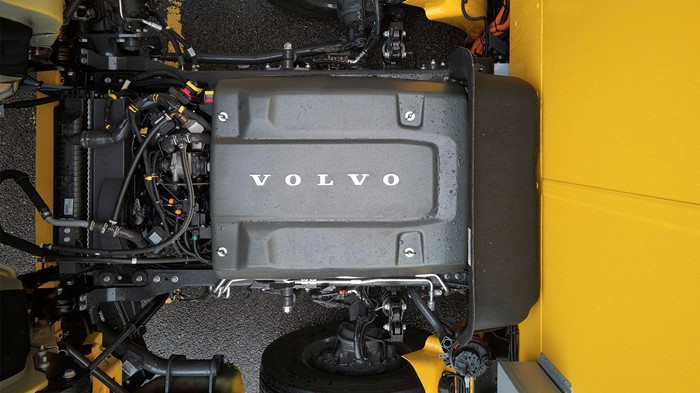 ---


"The Perfect Solution"
"As the market leader in contract logistics, and part of the world's largest logistics group, we have a responsibility to reach for ambitious sustainability targets as we deliver best-in-class solutions for our customers," says Ian Clough, MD of network logistics and transport for DHL UK & Ireland. "We are very proud and excited that our investment in the UK's first operational fully electric large commercial vehicle is just another example of how we are doing that. The Volvo FL Electric is the perfect solution to the challenges of urban logistics, allowing us to make deliveries in densely populated inner-city locations where air quality and noise pollution challenges are highest."
More Volvo FL Electric Details
The Volvo FL Electric, available with a wheelbase of 4,400 or 5,300 millimetres, features a fully electric motor that produces up to 200 kilowatts (268 horsepower) and 425 newton-metres of torque paired with a two-speed transmission. It also has another electric motor that powers the hydraulic pump, with options for a 70-kW (94-hp), 240-N-m motor or a 100-kW (134-hp), 530-N-m motor.
---
It's possible to spec the FL Electric with either four or six battery packs, each with a capacity of 50 kWh and an estimated lifespan of eight to 10 years. The four-battery version can be charged in less than one hour via fast charging or 6.5 hours with regular charging, while the six-battery version charges in 1.5 or 10.5 hours via fast or regular charging. The FL Electric has a maximum operating range of 300 km in the six-battery configuration.
Find The Right Volvo
You will find hundreds of new and used Volvo trucks for sale on Truck Locator, including a large selection of FLs, FHs, FMs, and FMXs.
Source: Volvo