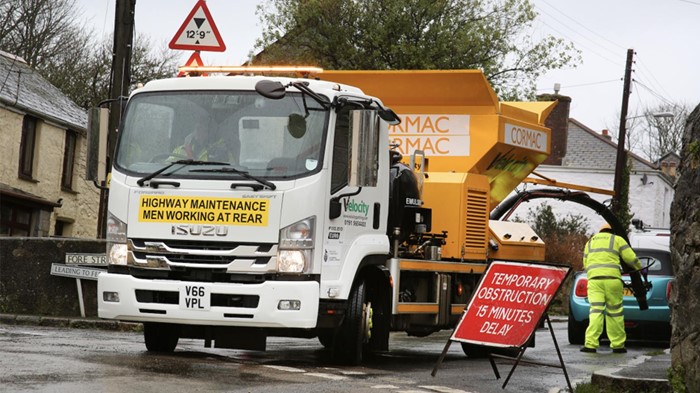 ---
Velocity, a pothole-patching and road repair specialist based in Sunderland, Tyne and Wear, recently brought on two new 11-tonne Isuzu F110.210(E) rigid trucks with enough material capacity to fix as many as 200 potholes per vehicle each day. The combination of the Isuzu's short wheelbase and Velocity's proprietary repair body means the vehicles can access tighter rural roads. The main innovation of the body is that it can patch potholes in a matter of minutes, but the final result is "a strong, durable repair" thanks to an "intense layering process," Isuzu says. Velocity produces and installs these bodies at its Sunderland-based manufacturing plant.
"Keep Communities Connected"
"These new trucks will open up new areas of the road network for Velocity to repair, providing a better service for road users and helping to keep communities connected," says Velocity MD Dominic Gardner. "In some rural areas, narrow lanes are inaccessible for the larger machines in our fleet. Designed in collaboration with our customer, Cormac, these new machines allow us to access those roads and increase productivity."
The F110.210(E) Up Close
The Isuzu F110.210(E) is powered by a 4HK1E6S engine that produces 207 horsepower (154 kilowatts) and up to 706 newton-metres of torque. The "E" in its name denotes its six-speed Easyshift transmission, which has fully automated and sequential shift modes. There are also F-Series models available with manual transmissions.
The F110.210 is available with a wheelbase ranging from 4,060 to 4,990 millimetres and a maximum body plus payload capacity of between 7,440 and 7,490 kilograms, but all configurations have gross vehicle weights of 11,000 kilograms and max trailer weights of 3,500 kg. Other features include an adjustable air-suspended driver's seat, heated mirrors, an anti-lock braking system, and a DAB radio with CD player, just to name a few.
Find The Right Isuzu
You will find a large selection of new and used Isuzu trucks for sale on Truck Locator, including a number of D-Max, N75, and other models.
Source: Isuzu