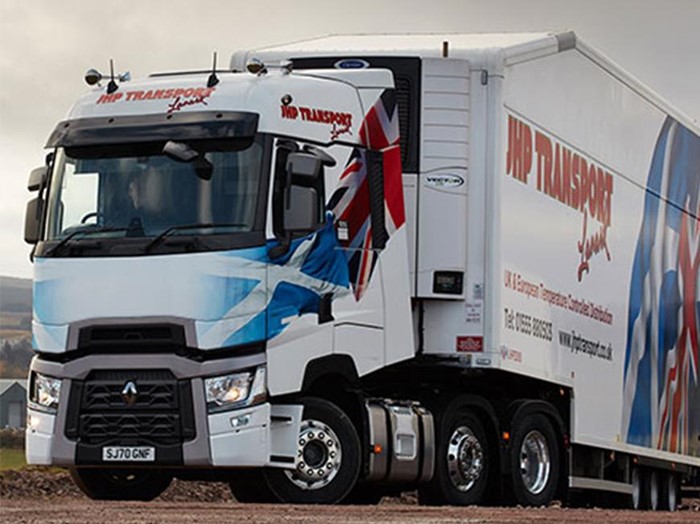 ---
Ambient, frozen, and chilled food distribution specialist JHP Transport has been working nearly non-stop during the pandemic, due to increased demand. The firm recently invested in its first Renault truck, a T520 High, which has begun clocking thousands of miles a week up and down the UK's motorways.
"We are moving time-critical refrigerated food and we need trucks that are robust, reliable and good on fuel together with a comprehensive backup service," says Transport Operations Manager John Campbell-Middleton. "We've had demonstrators before, and on the basis of a successful trial and a competitive all-round deal on the table we decided to order our first Renault truck."
Fuel Efficiency & Driver Comfort
The fuel figures JHP recorded during the Renault's trial were promising, which contributed greatly to the firm's decision to acquire the truck. To further optimise fuel consumption, JHP Transport specified the Fuel Eco+ Pack. And with drivers on the road all week, it was also important that they are happy with the truck.
"The internal specification is good and they like the all-round layout of the dash," says Campbell-Middleton. "We asked the team at Renault Trucks Scotland if they could supply an additional USB Charging Switch and it was done with remarkable efficiency."
Highlights Of The T520 High
The T520 is available in tractor and rigid options with both configurations available in 4x2 and 6x2 profiles. The DTI 13 engine supports power ratings between 328 to 388 kilowatts (440 and 520 horsepower) and three automated Optidriver gearboxes. JHP Transport's T520 High is fitted with the Optidriver AT 2612F gearbox with an automatic clutch featuring 12 forward and 2 reverse gears, which provides a maximum torque of 2,550 newton-metres (1,881 pounds-foot). The premium package also includes extras like a 40-litre fridge, microwave, and a five-year subscription to Renault Trucks' predictive cruise control system, Optivision.
Find Your Renault Truck
You will find a large selection of new and used Renault trucks for sale every day on Truck Locator, including a variety of Range T models.
Source: Renault