---
The 24-mile trip only took an hour and 20 minutes, but planning was a key factor in successfully transporting wind turbine blades 68.3 metres (224 feet) long and weighing around 24 tonnes (26.5 U.S. tons) each. Plant Speed, a Bristol-based heavy haulage specialist, deployed a trio of Mercedes-Benz SLT tractor units to transport what are believed to be the longest wind turbine blades ever moved by road in the UK.
The Transport Team
Leading the line was Plant Speed's latest flagship truck, an 8x4 Actros 4463 that represents the UK's first new-generation SLT model. The Actros SLT is powered by a 15.6-litre in-line six-cylinder engine that produces 460 kilowatts (625 horsepower). Plant Speed configured the Actros SLT 4463 with a GigaSpace cab and Mercedes-Benz MirrorCam technology, as well as conventional mirrors to cover the extended load. Two of Plant Speed's Arocs SLT eight-wheelers, both 4163 variants, also helped with the transport, while Mercedes-Benz Sprinter vans performed escort duties.
---
The Arocs are steel sprung, while the Actros (other than its front axle) rides on air. Plant Speed Managing Director Paul Lomas says the air suspension on the Actros SLT provides increased flexibility and finer control when picking up and dropping heavily laden trailers, and a weighing system that confirmed the loads over the second and two drive axles. "It just adds another level of safety," he explains. The short trip, which included stretches on the M5 and M4, was completed without incident.
The New Actros SLT
Designed for heavy haulage, the Actros SLT tractor is available in chassis configurations of up to 250 tonnes. The SLT uses a Mercedes PowerShift 3 16-speed automated transmission and includes the Wear-free Turbo Retarder Clutch to help keep the heaviest loads under control. The Turbo Clutch is capable of handling and delivering some 3,000 newton-metres (2,213 pounds-foot) of torque, which Mercedes-Benz says is significantly more than a torque converter. Similar to other SLT chassis, the Actros SLT offers heavy-duty mounts for the front and rear coupling points, and the robust rear axles can support up to 16 tonnes.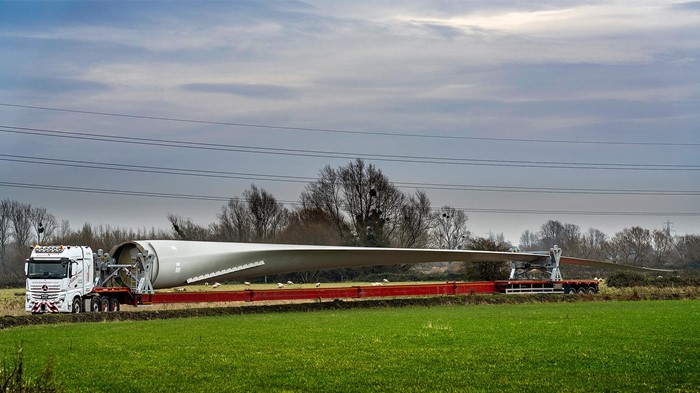 ---


Find The Right Mercedes-Benz Actros For Your Operation
Truck Locator has a fine selection of new and used Actros trucks and other Mercedes-Benz models for sale.
Source: Mercedes-Benz