---
Unisurge, a producer of custom procedure packs and other medical supplies based in Newmarket, Suffolk, recently purchased three new Volvo FL trucks. They join a somewhat mixed fleet of 18 vehicles, 13 of which are Volvos.
The 12-tonne (13.2-US ton) 4x2 rigids feature D5K engines that produce 210 horsepower (157 kilowatts) and up to 800 newton-metres (590 pounds-foot) of torque and 5,300-millimetre (209-inch) wheelbases. All three vehicles are customised with Hatcher Conversions high-roof cabs with ample space inside for a television, microwave, refrigerator/freezer, and a heated driver's seat. They also have Kurt Hobbs Coachworks box bodies with electric up-and-over doors.
Unisurge plans to have the trucks in operation for five days a week and estimates they will cover around 80,000 kilometres (49,710 miles) each year. For added peace of mind, each of the FLs is covered by a Volvo Gold Contract, and Volvo Truck and Bus Centre East Anglia will provide repair and maintenance services from its Ely location.
"Our Ambassadors On The Road"
"Volvo Trucks has always been our primary supplier," says Unisurge Chief of Operations Amir Farboud. "We've got a really strong, established relationship and we've never been let down by them; so naturally they were the default choice for this latest order. With these new trucks we wanted to be able to move to overnight distribution, which meant making sure our drivers had a really comfortable living and sleeping space. They are our ambassadors on the road, and giving them high-spec trucks will help ensure they are best equipped to represent the brand in a positive fashion.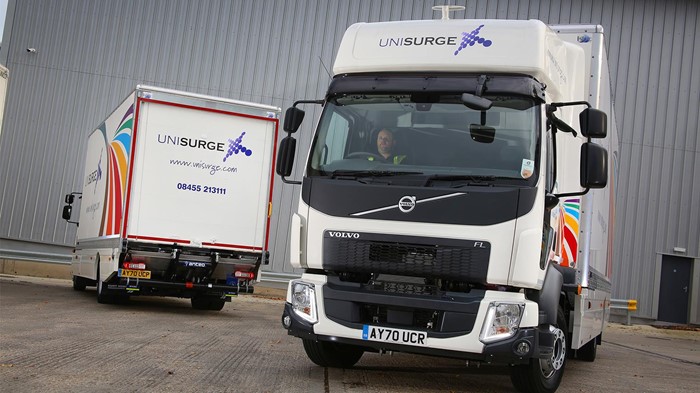 ---
"The drivers love the new trucks," Farboud continues. "They asked specifically for the up-and-over electric shutter door at the back as it just makes their job a little easier. We do a lot of multi-drop work, even unloading at several delivery points on the same hospital site, so speed is of the essence."
More Volvo FL Details
The medium-duty Volvo FL, which the manufacturer describes as a "Compact City Slicker," is available with a day cab, short sleeper cab, or a crew cab that can fit up to seven total passengers. Standard interior features include an adjustable driver's seat and steering wheel, a heating system (with the option for air conditioning as well), and loads of storage space.
The FL is available in a 4x2 or 4x4 axle configuration on a wheelbase ranging from 3,250 to 6,800 mm (128 to 268 in.) with a gross vehicle weight rating of between 10 and 18 t (11 and 19.8 US t). There's a choice of a D5K or D8K engine, which produce between 210 and 280 hp (157 and 209 kW) and from 800 to 1,050 N-m (590 to 774 lbf-ft) of torque, and transmission options include 6-speed manual, automated, and fully automatic gearboxes.
---
Volvo also offers an all-electric version of the FL that's powered by a 200-kW (268-hp) electric motor that produces up to 425 N-m (313 lbf-ft) of torque. It also features a two-speed transmission. With support for up to six battery packs, each rated at 50 kilowatt-hours per battery, the FL Electric has a maximum operating range of 300 km (186 mi).
Find The Right Volvo Truck
You will find hundreds of new and used Volvo trucks for sale on Truck Locator, including a large selection of FLs, FHs, FMs, and FMXs.
Source: Volvo