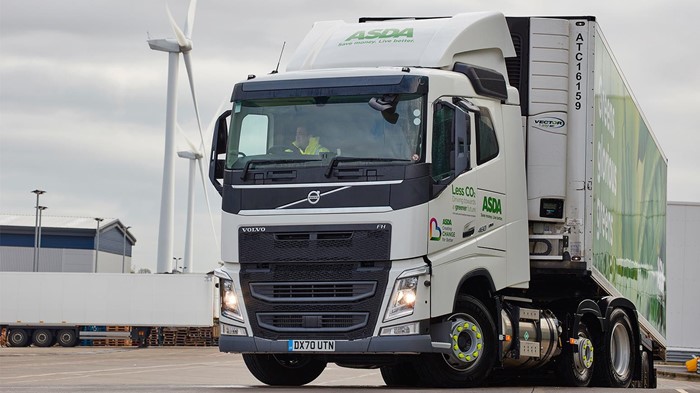 ---
Asda's latest fleet additions will not only boost its hauling capacity in time for the run-up to Christmas peak trading, but will also aid in its transition from diesel to gas. The supermarket giant recently took delivery of more than 200 Volvo FH LNG tractor units powered by biomethane after the firm's in-house trials showed that running on biomethane reduced CO2 emissions by more than 80%.
"We began with a pair of Volvo FH LNG trial vehicles at our Avonmouth depot in December 2018, which quickly proved to be very capable," says Sean Clifton, senior manager at National Fleets. "A further 49 joined between December 2019 and May 2020; and now this latest order sees an additional 202 Volvos being deployed across five additional sites in our network."
Renewable Fuel Fleet
Asda's Volvo order comprises 29 FH LNG 4x2s tractors for operation with single-deck trailers, and 173 6x2s which will pull double-decks. All trucks benefit from sleeper cabs and a specification fine-tuned for safety, sustainability, and efficiency. At 44-tonnes, the heavy-duty Volvo FH LNG 6x2s with double-deck trailers will cover up to 350 miles (563 kilometres) between refills, which fits Asda's 380 return-trip route perfectly. Refuelling is provided by Air Liquide and Gasrec, via a mix of on-site and open-access facilities.
---
"Our drivers in Avonmouth have really supported the transition," says Clifton. "They love the Volvos and have found that running on gas is smoother and quieter than diesel, and there's none of the range anxiety you can get with some of the other current alternative fuel options."
The Volvo FH LNG
The FH LNGs tractor units benefit from Volvo's approach to gas engine technology, using small amounts of diesel to initiate ignition of the air-fuel mixture. This enables the Volvo G13C engine to deliver the same 343 kilowatts (460 horsepower) and 2,300 newton-metres (1,696 pounds-foot) of torque as its diesel-only counterpart, the D13K. The LNG lineup also provides the same fuel efficiency as the diesel-powered equivalent, and because LNG is often cheaper, operators have the chance to reduce fuel costs. The operating range of the FH LNG makes the tractor unit suitable for regional and long-haul transport, and there are three tank sizes available (115, 155, or 205 kilograms) for an operating range of up to 1,000 km (621 mi).
Find The Right Volvo Truck
You will find hundreds of new and used Volvo trucks for sale on Truck Locator, including a big selection of FH models.
Source: Volvo