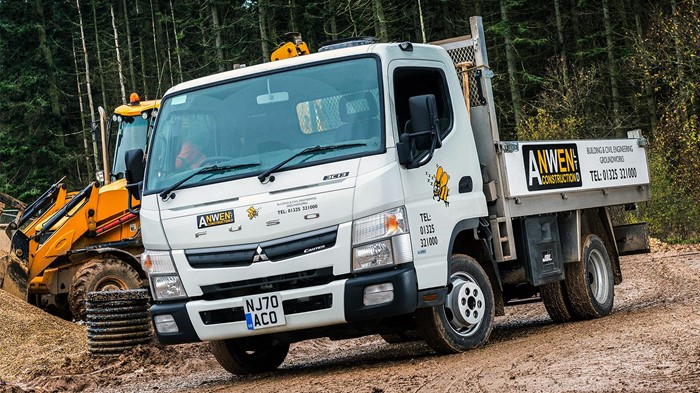 ---
Anwen Construction's recent demand for its groundwork services has never been higher and the firm anticipates this growth will continue into the near future. "We're currently tendering for work which, if it all came our way, would keep us going for five or six years," says Anwen Financial Director Damian Stevenson. "That scale of opportunity is unheard of."
To help meet the current and upcoming demands, Anwen Construction recently invested in a 3.5-tonne FUSO Canter 3C13, fitted with a bespoke tipping dropside body built by Dependable Bodies.
Compact Benefits
Much of Anwen Construction's growth has come from its specialisation in the provision of fully supervised and quality-controlled sub-structure installations for private housing and retirement living developers. The FUSO Canter is well-suited for these jobsites.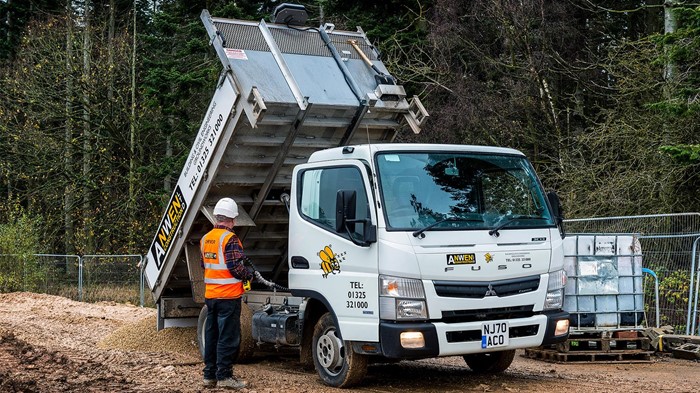 ---
"It's as compact and manoeuvrable as a van, and any member of our team can drive it on a car licence," Stevenson says. "Make no mistake, though, this is a proper little truck, and we've bought it to do a proper day's work."
Anwen Construction's Canter has a 2,500-millimetre (98.4-inch) wheelbase—the shortest of four available configurations. And the truck's fuel-efficient 3.0-litre common-rail turbodiesel produces 96 kilowatts (130 horsepower) and 300 Newton-metres (221 pounds-foot) of torque at 1,300 to 3,000 rpm.
Material Transport Duties
The FUSO Canter 3C13 offers a competitive payload allowance of 980 kilograms (2,160 pounds). The Canter is assigned to general duties and carries aggregates such as gravel and sand, as well as bricks and blocks, paving slabs, and drainage materials to and from sites.
---
"The intensive, demanding nature of our work means that vehicles can quickly become tired," says Stevenson. "While they're in service, though, it's essential they're always in the right place at the right time. I've every confidence that our new tipper will live up to the FUSO brand's reputation for toughness and reliability."
Find Your Next FUSO
You will find a large selection of new and used Mitsubishi FUSO Canters (distributed in the UK by Mercedes-Benz) for sale every day on Truck Locator, including models like the 3C13.
Source: Mercedes-Benz