---
Folsana Pressed Sections' Volvo FM12 recently passed the 16-year mark, and after covering nearly 1 million kilometres, the firm has invested in a new Volvo FH 6x2 Globetrotter XL pusher axle tractor unit. "The FM served me well over the years and was always a lovely drive, however the new FH is something else completely, particularly with the amount of living space it gives me inside the Globetrotter XL cab," says Folsana driver Wayne Cavanaugh.
Maximum Comfort & Performance
Finished in metallic silver, the Volvo FH will be used to transport the company's metal components to blue-chip companies within a vast array of industries across the UK. And as it's on the road five days per week, the Globetrotter XL cab and its twin bunk will provide comfortable, secure accommodations for one or two people. Folsana Pressed Solutions also spec'd the truck with a 33-litre under bunk fridge/freezer, as well as a microwave oven and TV preparation kit. Volvo's 12-speed I-Shift automated gearbox, which evaluates information about speed, weight, road grade, and torque demand, is onboard to communicate with the engine and allow it to adjust the revs and brake-effect for maximum performance.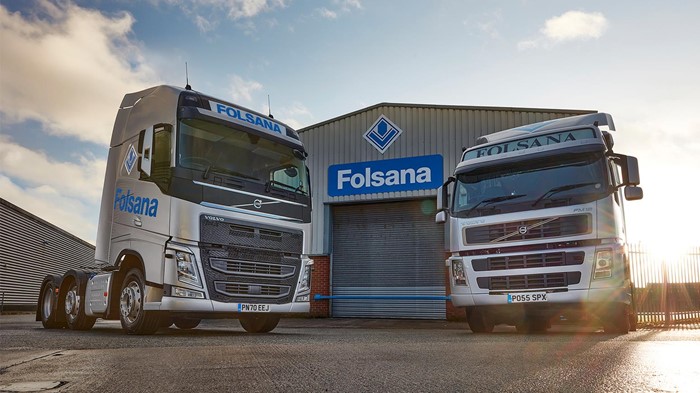 ---


The Volvo FH Series
Volvo announced a new generation of Volvo FH tractors and rigid trucks in early 2020, highlighted by the latest efficiency technologies and safety features. The FH16 is the new flagship in the heavy-duty truck lineup, featuring a six-cylinder, 16-L Euro 6 D16K engine that generates from 550 to 750 horsepower (410 to 560 kilowatts) and 2,800 to 3,550 newton-metres of torque. Volvo FH trucks, such as Folsana Pressed Solutions' new tractor unit, can also be equipped with Volvo's D13K, Euro-6, Step D engine that is capable of producing up to 460 horsepower and 2,300 newton-metres of torque.
---


Find Your Volvo Truck
Truck Locator's online marketplace is the industry's go-to source for hundreds of new and used Volvo trucks for sale every day, including a big selection of Volvo FH models.
Source: Volvo