---
Volvo Trucks recently added a crew cab option that fits up to nine people for the Volvo FM and FMX, which makes them a fit to be used as fire trucks. Volvo consulted with both emergency service providers and bodybuilders when designing the new cab to ensure it had all of the features necessary to properly serve the industry. This is an important move for Volvo as the company says there are more than 3,000 fire and support vehicles in operation each year across Europe.
Volvo heavily emphasised bodybuilding when designing the new crew cab to ensure it would be easy to configure as a fire and rescue vehicle. This means that the engineering team specifically laid out components in such a way that bodybuilders could easily find them and connect them to electrical and pneumatic systems. Volvo also made the rear of the cab clear with "nothing to be disassembled or moved." Most exterior components, including fuel tanks, are underneath the cab, and the various cables and hoses have "easily accessible connection points," Volvo says.
"We can now offer a very modern and comprehensive range of heavy-duty trucks on the market for fire services," says Volvo Trucks Special Vehicle Offering Product Manager Lars Franck. "The new variants of the Volvo FM and Volvo FMX are designed to provide members of the emergency services with a crew cab environment of world-class standard. We see ourselves as the bodybuilders' best friend. Our new crew cabs allow them a faster delivery of vehicles to their customers."
Design & Specs
Available in 4x2 and 4x4 axle configurations, the new crew cab meets the EN 1846 standard that applies to fire and rescue vehicles, and it's also ECE R29-03 cab impact tested. It has an internal roof height of 160 and 161 centimetres (63 and 63.4 inches) in the front and back, respectively, and the front and back doors can be opened at 79 and 75 degrees, respectively. Engine options include Euro 3, 5, and 6 Volvo D11 and D13 units, and both the FM and FMX can support power take-offs (PTOs) that produce up to 2,000 newton-metres (1,475 pounds-foot) of torque.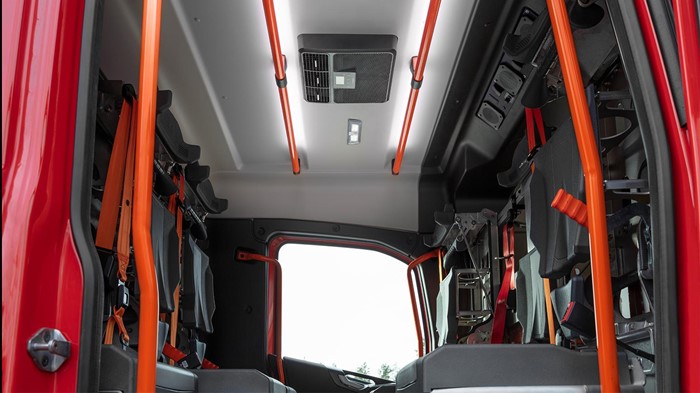 ---
The crew cab is not only strong and durable, it also has enhanced visibility thanks to a low door line, large windows and rear-view mirrors, and support for up to eight cameras. Adding to the safety profile is the option to add Volvo Dynamic Steering, which the company says "improves both ergonomics and driving safety." It also features an anti-slip illuminated step with an orange handle.
Inside, the high roof gives passengers ample space, and entry and exit are much easier with the high-degree door openings. There is also ample storage for firefighting and rescue gear. Volvo also redesigned the driver interface with a digital instrument panel and control buttons on the adjustable steering wheel.
Find Your Next Volvo Truck
You will find hundreds of new and used Volvo trucks for sale on Truck Locator, including a large selection of FHs, FLs, FMs, and FMXs.
Source: Volvo