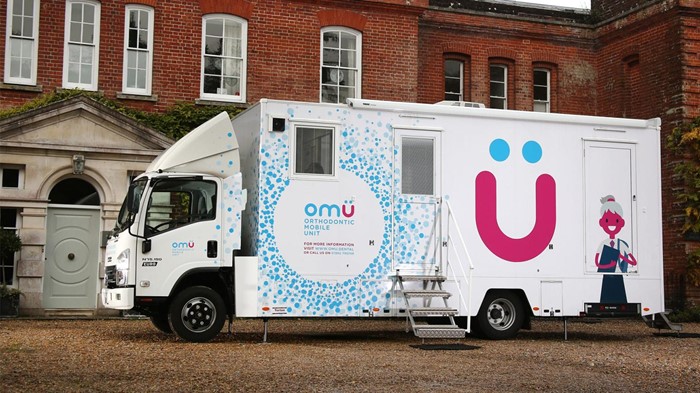 ---
Emma and Ben White saw a problem with patients at their orthodontics practice in Hampshire. Parents were driving over an hour in some cases to pick up their child from school for a five or 10-minute orthodontic appointment every month and then driving them back immediately afterwards, disrupting both the parents and the children's schedules. The Whites decided that in order to help, they needed to bring the appointments to the children instead, which required a mobile clinic.
About The Mobile Clinic
The Isuzu orthodontic mobile unit (OMÜ) has an Isuzu N75.150E as the base chassis fitted with a specialist mobile dental clinic body built by Torton Bodies. The specially designed body has three entrances and exits, including a hydraulic welfare lift for disabled access that fully meets with LOLER and DDA regulations, and a manually operated slide-out room on the offside for extra worktop and cabinet space. The interior is divided into a waiting room, decontamination room, and a fully equipped dental surgery. The OMÜ has its own water supply and heating system and is fully secured for transit to protect equipment from movement during journeys between schools.
"It was a major design exercise to incorporate all our requirements within one vehicle body," says Ben White. "It definitely was a labour of love over the two-year period, but we are extremely pleased with the end result and it really does provide our patients with the ultimate on-site orthodontist treatment facility. In addition, patients' welfare is most importantly safeguarded as they remain on the school premises throughout their treatment."
OMÜ, the UK's first Orthodontic Mobile Unit, is currently working with schools in the South of England, but the Whites are looking forward to expanding to operate in many more areas within the UK.
"Ben and Emma's 7.5-tonne Isuzu is a superb example of what you can do with an Isuzu chassis," says Richard Waterworth, head of sales at Isuzu Truck UK. "The flexibility and versatility of the chassis allows our customers to offer a vast range of innovative solutions using bodies specifically designed for purpose. The award winning OMÜ is certainly testament to this, enabling children to receive the best dental treatment literally on their doorstep."
Find Isuzu Trucks
You'll find a large selection of new and used Isuzu trucks, including dozens of N75s, for sale every day on Truck Locator.
Source: Isuzu