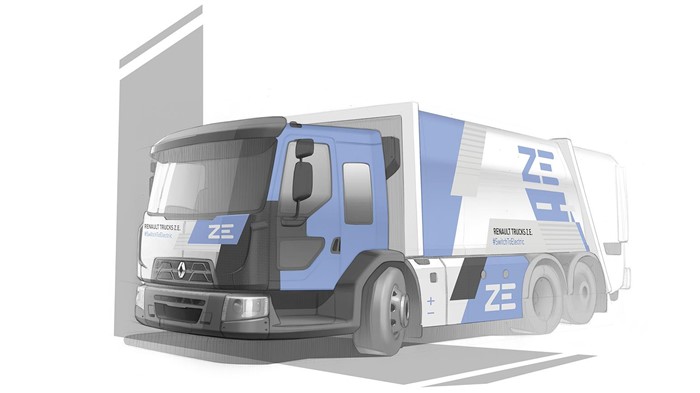 ---
Renault Trucks recently launched the D Wide Z.E. Low Entry Cab (LEC), which it says is well-suited refuse collection, light construction, general distribution, and other urban operations where meeting local emissions standards is key. Renault worked with bodybuilder Estepe of Heesch, Netherlands, on the design. It has already entered production and is currently up for order.
The D Wide Z.E. LEC is a 6x2 rigid truck with a steered rear axle and features a cab that fits up to four people. The entry is 200 millimetres (7.9 inches) lower than that of a base Range D model, and that can be reduced by a further 70 mm (2.75 in) with an optional feature that lowers the front of the vehicle. Renault says this can significantly reduce fatigue for workers that may "climb in and out of the cab up to 100 times a day."
Safer & Good For The Environment
"Renault Trucks' electric models enable operators to service the needs of our cities with a range of zero tailpipe emissions vehicles," says Renault Trucks UK & Ireland MD Carlos Rodrigues. "The introduction of a low-entry cab model opens up those vehicle types where ease of access and sensitivity to vulnerable road users are particular priorities, including domestic refuse collection and urban delivery services. The D Wide Z.E. LEC's easier access and excellent direct vision will allow customers to operate more cleanly, more safely and more productively, whilst meeting the highest environmental ambitions."
Find Your Next Renault Truck
You will find a large selection of new and used Renault trucks and vans for sale on Truck Locator, including Range Cs, Range Ts, Midlums, and Premiums.
Source: Renault