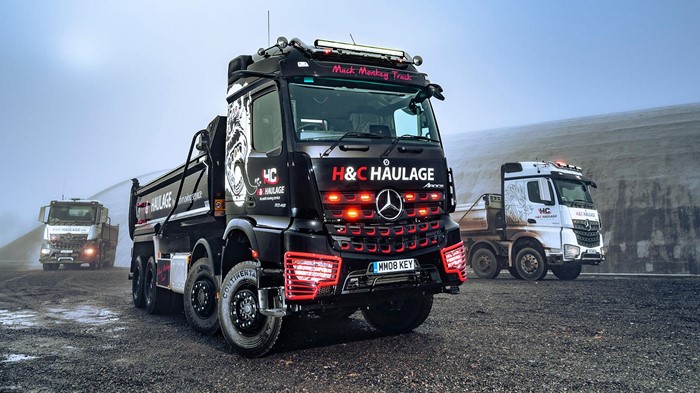 ---
H&C Haulage, an aggregate transport and muckaway business based in Swindon, recently purchased a new Mercedes-Benz Arocs, the dream truck of Owner Jason Ward's son-in-law and H&C driver, Rhys Ford. The company has operated Mercedes-Benz trucks for the entirety of its 20 years in business, transitioning from concrete mixers to tipper trucks in 2016. The latest addition to the H&C fleet is an 8x4 tipper truck, the third Arocs tipper used by the firm.
The new Arocs 3248 has a 12.8-litre, 469-horsepower (350-kilowatt) engine and a 12-speed Mercedes PowerShift automated manual transmission, and is equipped with an Abba Commercials steel Predator tipper body with a 19-tonne (21-U.S.-ton) payload capacity. It features Mercedes-Benz's Multimedia Cockpit, which consists of a 12-inch instrument panel and a dual-screen dashboard, as well as leather upholstery, a night heater, and a refrigerator.
Exterior features include air horns and a light bar mounted on the roof, red covers for the headlamps, and a sun visor displaying the vehicle's distinctive name: "Muck Monkey Truck." The truck is covered by a Mercedes-Benz Complete Service Contract.
MirrorCam System Impresses Owner & Driver Alike
When Ward went to test out a demonstrator truck from Mercedes-Benz dealer Rygor, he was impressed with the MirrorCam system despite being "old-school." That experience convinced him to equip his new truck with the system, which replaces traditional mirrors with A-pillar-mounted displays that receive video feeds from forward- and rear-facing cameras mounted to the roof. This reduces blind spots and offers a wider rear view. It didn't take long for Ford to learn to appreciate the MirrorCam as well.
---
"I'd wondered before my new truck arrived why the manufacturer had decided to 'fix' something that wasn't broken," says Ford. "It took only a very short time at the wheel, however, for me to really appreciate how much better the cameras are compared to traditional mirrors. You can see a lot more of what's going on behind you and I like the wide-angle lens, which offers a different view. Also, of course, and there are no mirrors to hide a car at the entrance to a roundabout, for example. I understand that some drivers may be resistant to change. But I'm 29, and for professionals of my generation this is definitely the way forward."
Find Your Next Mercedes-Benz Truck
You will find hundreds of new and used Mercedes-Benz trucks for sale on Truck Locator, including a large selection of Arocs trucks as well as Actros and Econic models, among many others.
Source: Mercedes-Benz