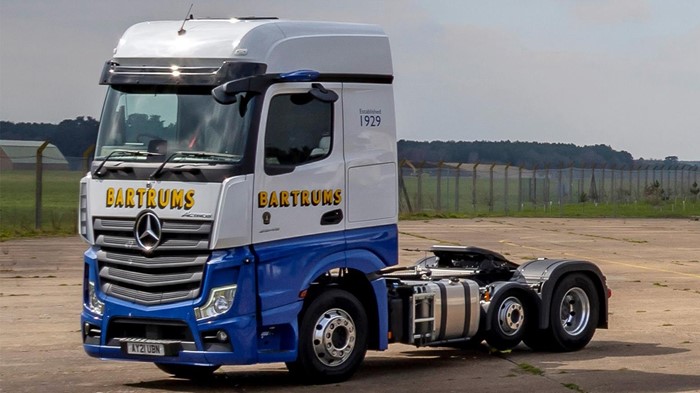 ---
The Suffolk-based Bartrum Group recently purchased 20 fifth-generation Actros tractor units to add to the 11 commissioned for its fleet last year. All 31 trucks are equipped with the optional, interactive version of Mercedes-Benz Trucks' twin-screen Multimedia Cockpit and the upgraded 12-inch central display.
About The Actros
The Actros features include Active Brake Assist 5 emergency braking system with enhanced pedestrian recognition capability, updated Predictive Powertrain Control, and MirrorCam, a set of rear-facing cameras that relay images to screens mounted on the A-pillars inside the cab, which replace traditional door mirrors. For the new trucks, Bartrums opted for the large, flat-floored BigSpace cab and fitted them with microwaves and fridges for their drivers.
The trucks have 12.8-litre, in-line six-cylinder 330-kilowatt (450-horsepower) engines and 17.5-inch wheels on the middle axle to save about 300 kilograms in weight. The Actros also use the Mercedes-Benz Truck App Portal, an open platform that enables fleet managers to assign apps to individual vehicles. Bartrums includes Daimler Fleetboard telematics technology, as they have for more than a decade, to analyse data and encourage drivers to adopt safe, fuel-efficient manoeuvres at the wheel.
---


Innovative Features
"The Bartrum Group is committed to new technology, and the benefits it offers in terms of increased efficiency, environmental compatibility and safety," says Operations Director Tremayne Johnson. "We're keen, therefore, to explore the potential benefits of innovative features such as the Truck App Portal and automatic tachograph downloads. MirrorCam is a big step forward and hasn't provoked a single negative comment. All round visibility is so much better. When reversing, you never lose sight of the rear corner of the trailer on the screens mounted inside the cab. Plus, of course, you don't have a big slab of mirror housing blocking your forward view."
Find Mercedes-Benz Trucks
You'll find a large selection of new and used Mercedes-Benz trucks, including the Actros, for sale every day on Truck Locator.
Source: Mercedes-Benz