---
Comfort, efficiency, and safety are all primary considerations when selecting a long-haul truck, and with the new Actros L, Mercedes-Benz delivers premium amenities in these categories to deliver what the manufacturer calls the "largest and most luxurious model in the Actros series." A host of driver assistance systems, for example, support operators at all times for accident-free driving. The second-generation Active Driver Assist (ADA 2) system can help with acceleration, braking, maintaining distance between vehicles, and, in some cases, steering. It also features an Emergency Stop Assist function to initiate braking and a complete truck halt if, after a series of visual and audible warnings, the driver doesn't appear to be actively controlling the vehicle.
Additional Safety Features
ADA 2 is one of many safety technologies on the Actros L and complements features like Mercedes-Benz' Active Brake Assist (ABA) 5 emergency braking, the MirrorCam system that replaces traditional mirrors with cameras and in-cab displays, and Proximity Control Assist. ABA 5 differs from ADA 2 in that it uses cameras and radar to detect pedestrians and other vehicles. Mercedes-Benz also equips the Actros L with Sideguard Assist, which uses two short-range radar sensors on the passenger side to assist the driver when making left turns and changing lanes where visibility is restricted.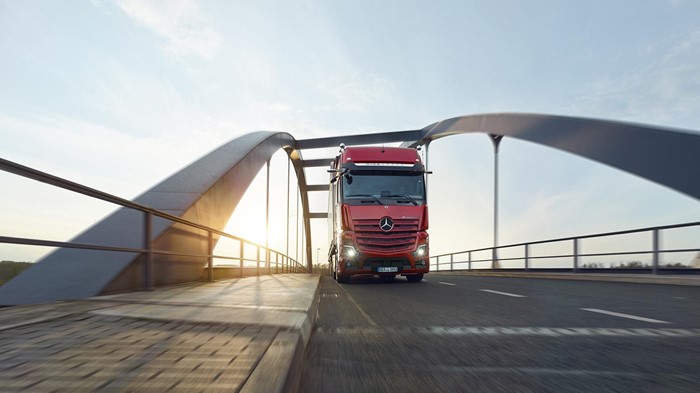 ---


Premium Comfort & Spaciousness
Mercedes-Benz offers the Actros L in StreamSpace, BigSpace and GigaSpace cab variants that are 2.5-metres (8.2-feet) wide, and these cabs have a level floor throughout for greater freedom of movement. The Actros L's cab also features enhanced noise insulation to provide a quieter working environment. Mercedes-Benz premium equipment details, such as stylish seat covers, a comfortable mattress, and compatibility with high-end Interior Line accessories, provide an attractive design for drivers.
"For transport companies, the Actros L is a really strong asset, especially in light of the acute shortage of drivers," says Mercedes-Benz Trucks Head of Marketing, Sales, and Service, Andreas von Wallfeld.
---


Efficiency Enhanced By Technology
The Predictive Powertrain Control (PPC) system on the Actros L factors in topography, the course of a road, and traffic signs to avoid unnecessary braking, accelerating, and gear shifting. Mercedes-Benz says PPC technology can reduce diesel consumption by 3% on expressways and 5% on rural roads. Fuel-efficiency numbers are displayed on the Actros L's Multimedia Cockpit, where drivers can also see activity functions from assistance systems like ADA 2 and ABA 5. Optional display integrations with the Multimedia Cockpit can include the weight of the towing vehicle and the front axle load to prevent overloading.
Find Your Next Mercedes-Benz Vehicle
There are hundreds of new and used Mercedes-Benz trucks and vans for sale on Truck Locator, including a wide selection of Actros models.
Source: Mercedes-Benz