---
Five to seven days a week and about 120,000 kilometres (74,500 miles) a year is how much AB2K, one of Scotland's largest plant hire specialists, plans to use six new Volvo FH16 750 Globetrotter XL haulers it recently acquired. The Cambuslang-based firm's medium chassis-height tractor units will carry out tasks in the civil engineering, ports, quarrying, rail, and energy sectors AB2Kt operates in. The trucks replace four older FH16s and two trucks from a competing brand in AB2K's fleet.
"We demand a lot from our heavy haulage tractor units, and the FH16s soak it up all day, every day. Nothing else comes close," says AB2K Service Manager Mark Kirkwood. "When you combine their sheer pulling power with Volvo's reliability and service levels and the comfort and visibility they offer for the driver, it is a very tough combination to beat."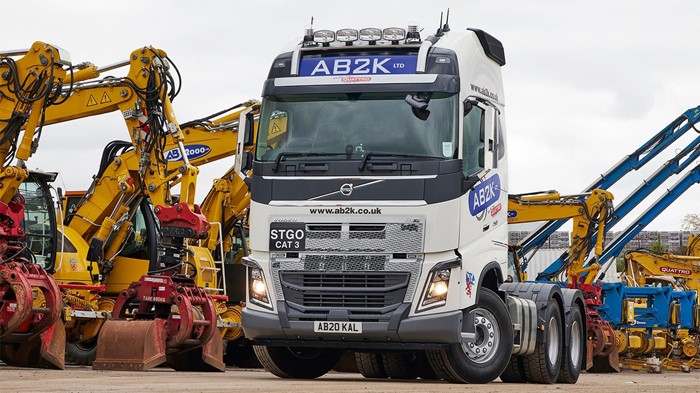 ---


Dependable & Safe
AB2K is part of the Quattro Group, a leading plant solutions provider service with hundreds of UK customers across several industries. Quattro Group itself uses more than 20 FH16s, as its Quattro Plant division took delivery of 16 FH16 750s in 2019 in what Volvo says was one of the largest orders of its kind in Europe at the time.
"Our trucks play a critical role in delivering heavy plant wherever and whenever it's needed, from city centres to remote corners of the Highlands," says Quattro Group Chief Executive John Murphy. "Having a modern fleet that you can count on to do the job safely and efficiently is essential. From experience we know it also helps attract the very best drivers."
---


Welcome To The Fleet
AB2K's FH16s were supplied by Truck and Bus Wales and West. They include one STGO Category 3 6x4 double-drive tractor unit with an up to 120-tonne (132-U.S.-ton) gross combination weight (GCW) and five STGO Category 2 6x2 tag axle tractor units with GCWs up to 80-t (88-U.S.-t). All include a Globetrotter XL cab, but FH16s are also available in low sleeper, sleeper, Globetrotter, and Globetrotter XXL cabs.
AB2K's trucks draw power from Volvo D16K engines, which Volvo makes available in 550-, 650-, and 750-horsepower (410-, 485-, and 560-kilowatt) variants providing up to 3,550 newton-metres (2,618 pounds-foot) of torque. The trucks also equip Volvo's I-Shift automated transmission and include a roof-mounted light bar and beacons, Direct Vision Standard Safe System Kit, and personalised registration plates.
Find Your Volvo Truck
Truck Locator offers a hundreds of new and used Volvo trucks for sale every day, including a number of FH16s.
Source: Volvo