---
Kelly Plant Hire of Redditch, Worcestershire, recently became the first company in the UK to put Volvo's new FM trucks to work as road sweepers. Of the six sweepers that Kelly Plant Hire used to clean the motorway at the recent Formula 1 Pirelli British Grand Prix event at the Silverstone Circuit, three were Volvo FM 380 Globetrotter 4x2 rigids equipped with rear air suspension and Back to Black rear suction sweeper bodywork from Bucher Municipal.
One-Pass Deep Cleaning
In addition to motorsport and airport specialist jobs, Kelly Plant Hire will use the new Volvo FMs to support major infrastructure development projects in the UK. The firm has ordered three identical Volvo FMs from Volvo Truck and Bus Centre South & East for delivery later this year. Kelly says the new trucks stand apart from standard road sweepers by virtue of their ability to perform an ultra-high-pressure clean in one pass and penetrate deep into crevices on tarmac surfaces.
"Being able to deliver a deep clean in one pass is a huge advantage for our business," says Kelly Plant Hire MD Shaun Kelly. "Race circuits and airports will often require an intensive clean to be conducted within a short window, which suits these rear-suction machines perfectly."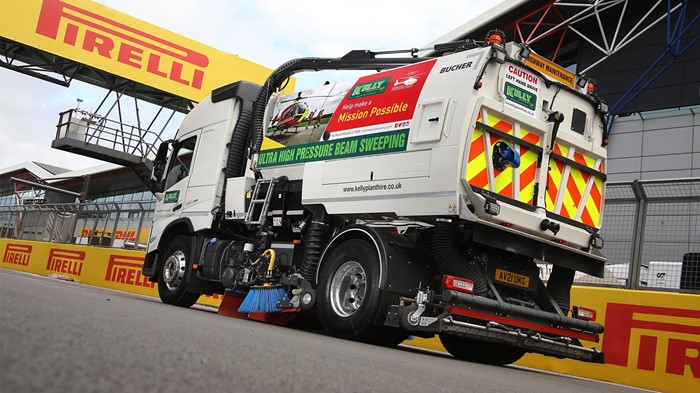 ---


Back To Black
Volvo FMs are available in six cab sizes and two-, three-, or four-axle configurations and extra low to high chassis options. The trucks are powered by Euro 6-compliant six-cylinder DK11K and D13K engines rated for 330 to 500 horsepower (245 to 373 kilowatts) of maximum power and delivering 1,600 to 2,500 newton-metres (1,180 to 1,844 pounds-foot) of maximum torque. Kelly Plant Hire's FMs are built on a 4,300-millimetre (169-inch) wheelbase and include a Globetrotter sleeper cab, a fully digital Volvo driver interface, and integrated driver-assistance technologies. Their full-width rear suction vacuum and ultra-high-pressure jets providing fast, efficient "back to black" finishes.
"We love having Volvos on the fleet, and we're excited to be getting some of the first of these new models in the country," Kelly says. "You never have an unhappy driver if you give them the key to a Volvo; our team love them, and these new trucks look absolutely fantastic in our livery and loaded with kit."
Find Your Volvo Truck
This site has a big selection of new and used Volvo trucks for sale every day, including a number of FMs.
Source: Volvo