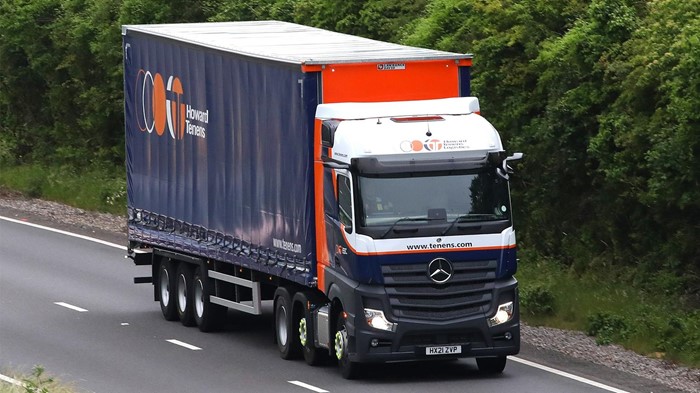 ---
Howard Tenens Logistics has purchased 16 new Mercedes-Benz Actros tractor units for its fleet in Andover, Hampshire. Safety and fuel efficiency were top of mind for the Gloucestershire-based transport company in selecting the new trucks, as was the aftersales support and demonstration unit provided by local dealer Marshall Truck & Van.
The new Actros 2545s came with a flat-floored BigSpace cab and a 450-horsepower (330-kilowatt), 12.8-litre, inline six-cylinder engine. The trucks are equipped with a number of Mercedes technologies for safety and fuel economy, including the MirrorCam system and sensors on the sliding fifth wheel that alert the driver in the event of an improperly coupled trailer.
"The demo went very well," says Howard Tenens National Fleet and Compliance Manager, Alan Pellow. "After a little bit of familiarisation everybody liked the MirrorCam, while the new-generation model was also about half a mile-per-gallon better on fuel, which holds out the promise of some very welcome savings."
MirrorCam
Mercedes-Benz's MirrorCam system replaces the cab's side mirrors with video cameras and adds display screens to the A-pillars. This not only eliminates forward-facing blind spots behind traditional mirrors and A-pillars, but also increases fuel efficiency up to 1.5% by improving aerodynamics.
"From a safety perspective in particular, MirrorCam is a big step forward and definitely puts Mercedes-Benz ahead of its competitors," says Howard Tenens Logistics Executive Director Ben Morris.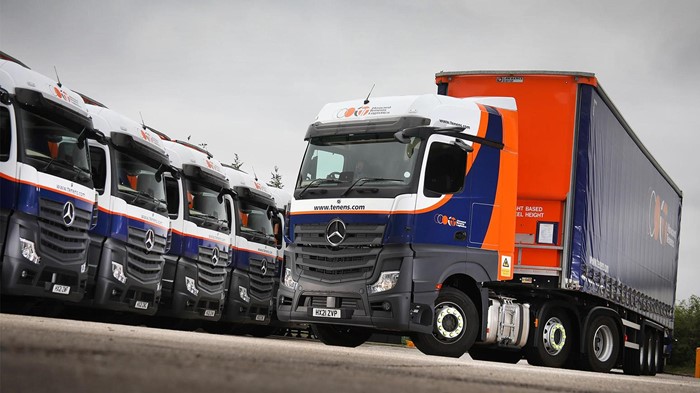 ---


Standard & Optional Features
The Actros comes equipped from the factory with Active Brake Assist 5. This automated system uses a combination of radar and a camera to detect pedestrians and moving or stationary objects. Active Brake Assist 5 can fully brake the vehicle from speeds of up to 50 km/h (31 mph) in order to avoid accidents.
Mercedes-Benz's updated Predictive Powertrain Control, which also comes standard on the Actros, increases fuel economy by as much as 5%. It uses satellite location data and 3D mapping to scout the motorways, A roads, and B roads ahead. This includes the topography of the terrain ahead as well as roundabouts, junctions, and traffic signs. The system then manages the transmission's gear shifts for the best fuel efficiency possible.
Howard Tenens opted for the interactive Multimedia Cockpit available in the new Actros. The dual-screen, digital dashboard has an upgraded, 12-inch digital instrument panel, satellite navigation, and more. The Actros also features bi-xenon headlamps and optional automatic high/low beams, cornering lights, LED daytime running lights, and LED taillights.
Find The Right Mercedes-Benz
Come explore Truck Locator, which hosts a variety of new and used Mercedes-Benz trucks for sale, including Actros models.
Source: Mercedes-Benz