---
In a bid to lower emissions while increasing safety and efficiency, Travis Perkins plc, the UK's largest distributor of building materials, recently made a multi-million-pound investment with the purchase of 170 Volvo FM 330 6x2 rear-steer rigids. The new 26-tonne (28.6-U.S.-ton) trucks will arrive over two years (85 will be delivered this year and 85 more in 2023), and will sport a mix of Travis Perkins and Keyline Civils Specialist liveries as they deliver building supplies to construction customers around the country. The FMs will join a commercial fleet of 1,600 vehicles and will operate up to six days a week, logging around 30,000 miles (48,280 kilometres) per year.
The trucks are equipped with Euro 6 Step E diesel engine technology to reduce emissions and fuel consumption and are also able to run on Hydrotreated Vegetable Oil (HVO). Travis Perkins plans to deploy the trucks in several locations that have HVO enabled through a trial that began in 2021.
A Truck That Meets The Fleet's Needs
There's a lot to like about the FM, but one thing that helped win over Travis Perkins was the FM's decluttered cab. The 9-inch side display shows feeds from Travis Perkins' five-camera setup and on-board weighing system, eliminating the need for additional monitors. The company also received feedback from national driver engagement days, safety events, and focus groups. The FM day cab provides the visibility, storage space, and easy access that Travis Perkins' drivers were looking for, and the firm added the extra lighting and load securing points they requested, as well.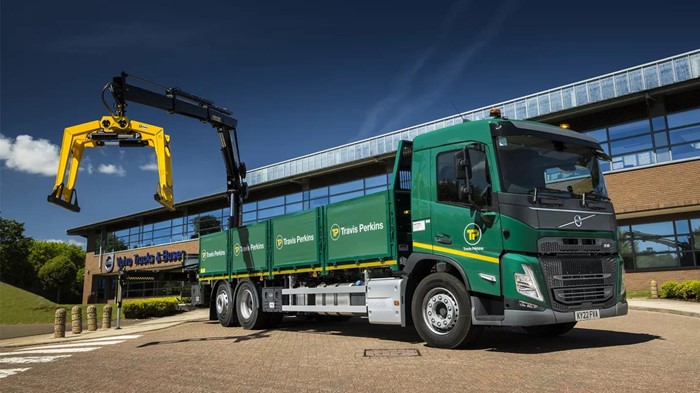 ---
Travis Perkins worked with Volvo Trucks UK & Ireland to ensure the trucks had the necessary ground clearance for construction sites and that the cab was three-star Direct Vision Standard-compliant. The FM also has a 9-t (9.9-U.S.-t) front axle, a 12-speed automated I-Shift transmission, and a hydraulically steered tag axle for improved turning. The smart cab, fitted with Volvo's Drive package, has remote central locking, twin armrests, air conditioning, and a tinted glass roof hatch. Safety features include roof beacons, a lower door window on the passenger side to better direct vision, near-side proximity sensors, an audible warning for left turns, five cameras, and a white-noise reversing alarm.
"It's so rewarding for all those involved to see this project coming to fruition; a huge amount of work went into consulting with our drivers, researching the latest available technologies and developing the build with Volvo Trucks, bodybuilder Massey Truck Engineering, and crane supplier HIAB," says Travis Perkins Technical Fleet Director Karl Wilshaw. "We are really pleased with the result. We have FORS Gold accreditation, and these trucks play right into our continuous improvement efforts. They look fantastic, and they're enabling our teams to operate more efficiently and safely."
Find Volvo Trucks
You'll find a large selection of new and used Volvo trucks, including FM tractors and rigids like the FM 330, for sale every day on Truck Locator.
Source: Volvo