---
Pallet Network Solutions was looking for a unique way to celebrate its recent 10th anniversary—and found one in the form of a new flagship truck. The Cannock-based company bolstered its fleet with the addition of a new Renault Trucks T520 High 6x2 tractor unit decked out in a special livery.
Apart from its flashy appearance, the truck works hard making deliveries around the UK as well as collections and deliveries around Warwickshire for the trunking and shunting solutions company. The Renault T520 is part of a £1 million equipment investment the company has made in the last year.
"Our first experience with Renault Trucks and Allports Group was back in December 2018 when we bought in some used vehicles," says Pallet Network Solutions Managing Director Matt Roberts. "We've since added T480 tractor units, a 3.5-tonne Renault Trucks Master curtainsider and a 12-t curtainsider and our fleet is now 100% Renault Trucks, totalling 16 vehicles and 45 trailers. When looking for our anniversary vehicle, Renault Trucks was the clear favourite."
Renault's T520 High
The T520 High has a D13 engine that produces 520 horsepower (382 kilowatts) and 2550 newton-metres (1,881 pounds-foot) of maximum torque. The powerful engine is coupled with an Optidriver AT 2612 gearbox with an automatic clutch for smooth and effortless gear changes.
The special anniversary truck is loaded with optional features, including front air suspension, two roof-mounted air horns, chassis-mounted side skirts, and a radiator grille and exhaust heat shield painted to match the cab colour.
The truck is also equipped with an array of features to assist drivers and enhance safety, including driver fatigue detection, lane departure warning, an automatic emergency braking system, hill start assist, and speed assistance.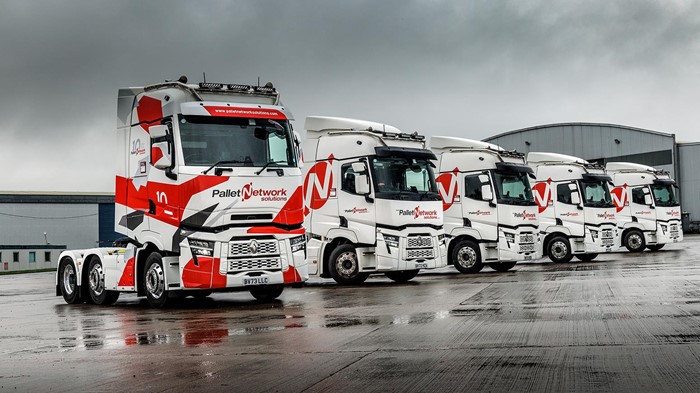 ---
Ride In Style & Comfort
The T520 High's luxurious cab has a heated and ventilated driver seat, a premium cab curtain and bunk, and a leather steering wheel. Ample lighting is provided outside by the top roof bar with LED side marks, three laser lights, and LED underflow lighting.
The cab has an optional swivel table integrated into the dashboard on the passenger side to place a computer on during a break, eat a meal from, or use to fill out paperwork. The 420- by 297-millimetre (16- by 11.7-inch) table can be accessed from the driver or passenger seats and from the bunk. It can support a 1-kilogram (2.2-pound) load when the truck is in motion and up to 6 kg (13.2 lbs) while stopped.
Driver Lauds The Renault T520 High
"Adam, our driver, says the new truck is getting so much attention that he can't go anywhere without getting stopped by people admiring its wow factor and even puts all the lights on to give them a bit of a show!" says Roberts.
"To say he's proud of the truck would be an understatement, he had a mat with the 10th anniversary logo made up for the cab and he keeps the vehicle spotless with his own special cleaning kit."
Find Renault Trucks For Sale
Browse TruckLocator.ie for a large selection of new and used Renault trucks for sale, including Range T models like the Renault T520, and find the best tractor unit or rigid for your operation.
Source: Renault