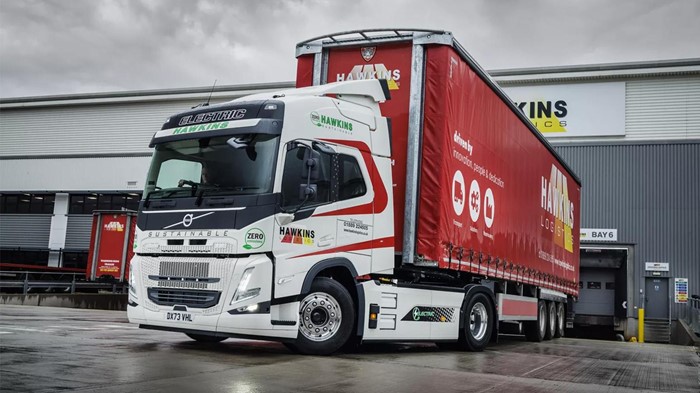 ---
Hawkins Logistics recently added two Volvo FM Electric 4x2 tractor trucks to its fleet of 82 vehicles. The trucks will run local delivery routes for the Staffordshire-based company, logging up to 250 kilometres (155 miles) in a day and returning to the Hawkins Logistics depot in Fradley.
Volvo FM Electric Specs & Features
The FM Electric series has three electrical motors, which provide an output of 490 kilowatts (666 horsepower) and 2,400 newton-metres (1,770 pounds-foot) of continuous torque.
Volvo says the motors and I-Shift gearbox produce a smooth, quiet ride. The I-Shift gearbox evaluates speed, weight, road grade, and torque demand to apply precise shifting and adjusts revs and brakes as needed.
The truck has a traction control system to manage power output on slick surfaces and multiple drive modes to tailor performance, comfort, and energy usage to environmental conditions and operator preferences.
The electric truck's six batteries have a range of approximately 300 km (186 mi) and can charge in two and a half hours with a 250-kW DC charger or in nine and a half hours with a 43-kW AC charger.
Hawkins Logistics also fitted their Volvo FM Electric trucks with full air suspension Globetrotter cabs and the Drive++ package, which adds dual armrests, leather upholstery, and air conditioning with sun, mist, and air quality sensors plus a carbon filter.
---
Prioritising Safety
Volvo FM Electric is also equipped with a wealth of safety features, including Forward Collison Warning with Advanced Emergency Braking. The system alerts the driver when the distance to the next vehicle in front decreases and there is a risk of collision and can automatically apply the brakes if the driver does not respond.
EV Trucks For Sustainability
"In line with our commitment to innovation and sustainability, we are thrilled to unveil these Volvo FM Electric trucks, which will replace two existing diesel trucks," says Hawkins Logistics Operations Director Paul Hawkins.
"This significant investment not only underscores our dedication to reducing our carbon footprint but also empowers us to lead the charge towards a greener and more eco-conscious future for the logistics industry."
Find Volvo Trucks For Sale
Find a big selection of new and used Volvo trucks for sale on TruckLocator.ie, including a variety of Volvo FM tractors and rigids.
Source: Volvo