A pair of new
DAF
tractors have been added to the fleet operated by the growing haulage company KER Transport this month, with the firm seeking to enhance its selection of vehicles with Euro 6 compliant units.
The
DAF XF tractor units
have been procured in part because the company has already had experience of models from this manufacturer and is more than happy with the performance capabilities and ownership costs that they offer, according to UK Haulier.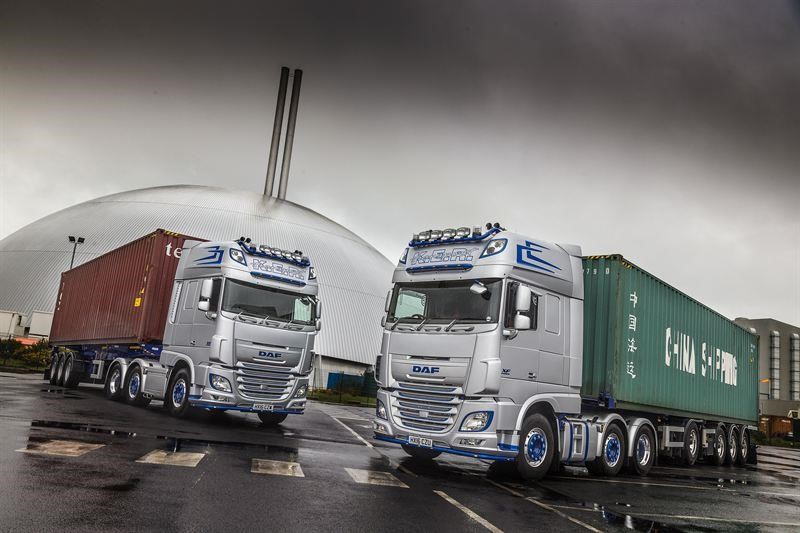 The two new
Daf XF510
tractors have been endowed with telematics solutions offered by DAF, although only on a trial basis as the fleet operators get used to how such platforms operate and the benefits that can be gained.
Spokesperson Ken Reed said that picking DAF trucks was an easy choice since the firm's prior experience with its products was exemplary, and drivers were particularly happy with the quality of the experience that earlier models offered them.
Consistent Performance Over Long Distances
The latest generation of the
XF range
has been built from the ground up to offer consistent performance over long distances, along with enhanced efficiency and lower emissions in line with Euro 6 standards.
Engines from Paccar are found on all models, with both 10.8 litre and 12.9 litre units available. Maintenance is streamlined thanks to the fact that the fuel filter is combined with the heater and water separation unit, which should also reduce costs over the life time of each truck.
The engine even offers advanced braking power to complement the standard brakes on the wheels, delivering a lot of power even at low revs and improving safety, as well as reducing the risk of overheating. Matched with a sturdy and stable chassis, this makes for a compelling set-up that can accommodate a range of trailer types for transport jobs within many different industries.
The XF is also lighter than ever in spite of its strength, with a flexible rear axle and cutting-edge suspension system allowing for class-leading handling to be on offer, even when under heavy load.
Designed to Improve Fuel Efficiency
The attractive exterior of the XF is another noteworthy feature, not only allowing each truck to strike a stylish and distinctive pose while out on the road but also encompassing aerodynamic elements which improve fuel efficiency. LED headlights can be specified to further improve the look and operation of the tractor, and entering and exiting the cab are made easier thanks to a low floor height and conveniently positioned steps.
Within the cab the layout is oriented around allowing the driver enough room to live and work without feeling cramped or limited in what they can achieve. With a volume of up to 12.6 cubic metres and lots of headroom, it never feels cramped.
Lots of useful items and personal belongings can be stowed in the various useful storage compartments, adding up to over a thousand litres of secure and convenient space. Additions like a fridge can round out the long-distance benefits of the XF range in its current form.