---
Maritime Transport, a multi-modal logistics company based in Felixstowe in Suffolk, England, recently submitted an order for 200 Scania R450 trucks, its largest single order ever. Maritime opted for models with six-cylinder engines that can produce up to 450 horsepower and 2,350 newton-metres of torque. The trucks also feature 2-pedal Opticruise transmissions and Scania's R Highline cab. Fuel economy played a major role in Maritime's decision, and the company ran tests where the Scania R-Series came out on top against other trucks in the fleet.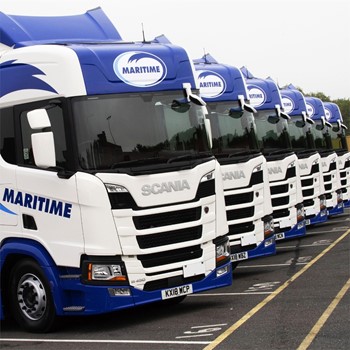 ---
"Our work can be so varied that usually comparing a vehicle's miles-per-gallon performance to another is difficult," says Stuart Wardlaw, fleet director for Mairtime Transport. "To allow us to make an informed decision, we undertook a track trial with the latest products across our fleet. As part of this, we eliminated as many variables as possible, for example, container size, load weight, journey, etc. When it came to fuel economy, the Scania's outperformed the other marque. This alongside all other factors of the whole life cost of the vehicles was the deciding factor when placing our order for the 200 Scania R Series."
A Truck For Drivers
Maritime wanted to make sure its next trucks would improve the quality of life for its drivers, which is where the R Series with its R Highline cab, refrigerators, microwaves, and other amenities came into play. For a company with 1,200 trucks that travel over 100 million miles per year, it's important to retain drivers and keep them happy. "A driver's acceptance of a vehicle has a direct link to their behaviour and performance," says Wardlaw. "When they are happy with the vehicle they are driving, we believe they will drive more economically and safely."
If you want to receive some of these same benefits from the R450, you'll find hundreds of nearly new Scania R450 trucks for sale at TruckLocator. Overall, there are hundreds of used Scania trucks for sale on the site, including over 200 in the Scania R Series.