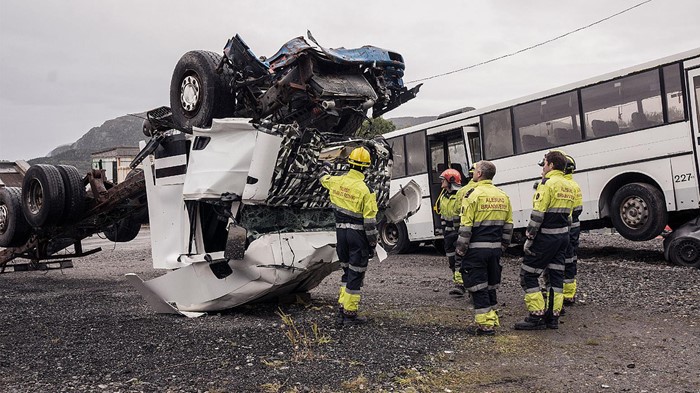 ---
Scania has been providing cab prototypes for heavy vehicle rescue training to the Ålesund Fire Department in Norway for six months now. This has been particularly helpful to Geir Egil Haug, a firefighter and training coordinator for the department. Haug says that for proper training, you need to not only have access to the right equipment "to make rescue operations as efficient as possible," but you also need to access to full cabs to simulate real-life scenarios. "Previous to this, the challenge was getting hold of cabs to practise with," he said in a press release. "We've often had to use cab shells without interiors."

Establishing A Relationship
Haug remembers back in 2010 when he and three other firefighters from the Ålesund Fire Department went to Sweden to learn heavy vehicle rescue techniques. They spoke to Jimmy Säfström of Heavy Rescue Sweden, who stresses the importance of using complete cabs for training purposes. "Freeing trapped casualties from a cab is very demanding and requires understanding, competence and the correct tools," said Haug. "It's about being prepared for the tasks we might have to take on."

---
It Takes A Village
Fortunately for Haug and the Ålesund Fire Department, Scania was more than happy to help, and so were a few other parties. One was Enger Transport, where Haug occasionally works, which facilitated the transport of Scania cabs from Södertälje, Sweden, to Ålesund, Norway. The Sunnmøre district where Ålesund is located also offered the services of its oil company, Bunkers Oil, to literally fuel the operation. "This is cooperation in practice," Haug says.
Looking For Scania Trucks?
For those who need more than just a cab, TruckLocator is your online destination for hundreds of used Scania trucks for sale. Listings include more than 200 models in the Scania P Series.