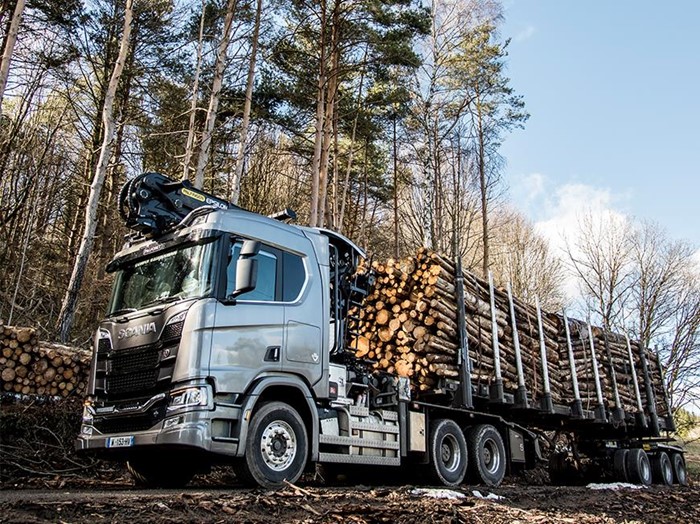 ---
Industrial engine and truck manufacturer Scania has delivered a fully customised Scania R650 V8 special-purpose logging truck to meet the exacting demands of Transports Rancon, a company that specializes in hauling timber in the mountainous Haute-Loire region in southern France.

The Ultimate Timber Truck
In order to keep their operation running smoothly, Transports Rancon needed a reliable, powerful truck that was outfitted with a 10-metre Palforet boom crane and capable of carrying more than 50 tonnes of timber between the felling site and the sawmill on a continual basis. The company turned to the Sweden-based division of Volkswagen Truck & Bus, and Scania did not disappoint.

Transports Rancon's Scania R650 V8 truck features a grappling hook attachment on the end of the boom crane that makes picking up individual logs of varying size and stacking them on the Faymonville three-axle trailer look almost effortless. In addition, the agile Scania R650 can traverse up to an 18 percent incline on dangerous roads where one wrong move can have devastating consequences. Despite the terrain, however, Transports Rancon is impressed with how well this 57-tonne-capacity truck handles itself well.

But the Scania R650's impressive performance in this demanding environment doesn't come as a surprise to Transports Rancon, as the company already operates two additional Scania trucks.
Cab With A View
Other features that make the new truck a perfect fit for Transports Rancon include the fuel-efficient Euro 6 V8 engine, dual chassis, enhanced braking system, an exceptionally powerful hydraulic retarder, front axle capacity of 10 tonnes, and two rear axles capable of supporting 13 tonnes each. Aurélien Rancon, director of Transports Rancon, is also impressed by the commanding view of the road afforded by the Scania R650's next-generation cab, saying "…the visibility is astonishing."
If you're in the market for new or nearly new Scania trucks, buses, or other equipment, you'll find a wide selection available for sale on TruckLocator, including a big selection of R Series trucks.