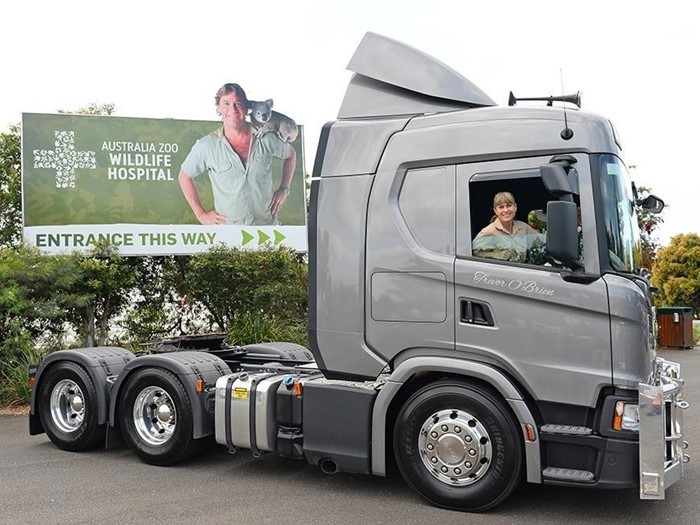 ---
Scania Australia is providing a G500 truck to help deliver boats, traps, and other equipment that will aid the Australia Zoo Wildlife Warriors and University of Queensland in their crocodile research and conservation efforts. The truck will make a round trip of 5,500 kilometres and drop its cargo off at the 135,000-hectare Steve Irwin Wildlife Reserve in Queensland. "The money we would have used to rent a truck can now be used for further research into crocodiles and their conservation," says Terri Irwin, owner and operator of Australia Zoo and Steve Irwin's widow.

Annual Event
Since 2008, the team at Australia Zoo has been going out to the wildlife reserve on an annual basis to capture crocodiles so that University of Queensland researchers can measure them, put trackers on them, and conduct other general research. The trackers consist of an acoustic tag with a life of roughly 10 years and GPS tags for following the movement of bigger crocodiles for a year. All of the information gathered during the research trip and through ongoing tracking is used to better understand what crocodiles eat, how often and where they move, and more.

Scania G500
The Scania G500 is available in G-Short Cab, G-Day Cab Low, and G-Day Cab Normal day cab configurations as well as in G-Sleeper Low, G-Sleeper Normal, and G-Sleeper Highlight sleeper cab configurations. Engine options include a 9-litre Euro 6 that produces up to 360 horsepower and 1,700 newton metres of torque or a 13-litre Euro 6 that offers up to 500 horsepower and 2,550 newton-metres of torque. You also have the choice of 8-speed or 8+1-speed range-change and 12-speed or 12+2-speed range-splitter transmissions. There is a wide range axle options for both tractor and rigid configurations, including 4x2, 6x2, 8x2, 10x4*6, and many others.

Browse or search this site, and you will find a large selection of used Scania G Series trucks for sale, including many Euro 6 G Series trucks.