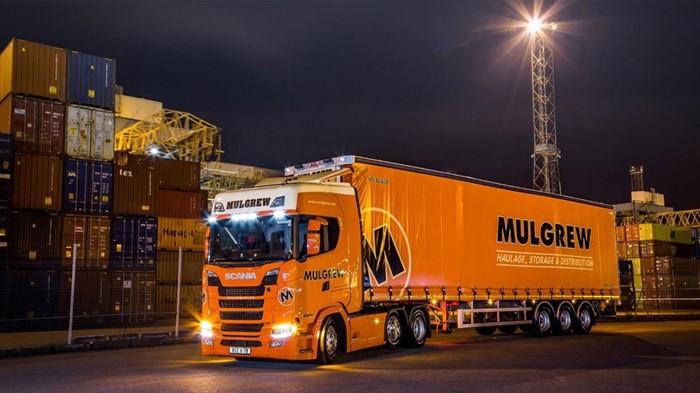 ---
Mulgrew Haulage Limited, based in Northern Ireland, started using Scania's remote driver coaching service three months ago and, since then, has had 13 drivers improve the fuel consumption of their vehicles by an average of 11%. The training was part of a package deal where retail operators that opt for inclusive repair and maintenance plans on their new Scania trucks can receive four complimentary sessions. Scania points out that you can also purchase its coaching service as a standalone product.
"Commercially, we need to be competitive and constantly monitor all our costs. Fuel economy is at the top of this list," says Dermot Mulgrew, Jr., operations director for Mulgrew Haulage Limited. "Customers do not pay for our inefficiencies; they depend on us to provide a cost-effective and sustainable service. As professional operators, we also have an environmental responsibility to think of. With the complimentary training sessions offered within the repair and maintenance package Scania help us to improve on both these fronts."
Big Potential
Mulgrew Haulage Limited is a loyal Scania customer and currently owns 87 R-series Highline and Topline models "from Scania's previous generation of vehicles" as well as 50 Scania S-series new generation trucks, all of which are powered by either 13- or 16-litre V8 engines. The company has also ordered 70 more vehicles for 2019. If Mulgrew can increase the number of drivers seeing similar fuel efficiency gains, it could lead to impressive cost savings for the business across the entire fleet.
"The figures being achieved here clearly demonstrate a win-win situation for both parties," says Paul Johnson, general manager of Connected and Driver Services at Scania. "For a company operating 125 Scania trucks, an 11% fuel saving is hugely significant, while better and smoother driving means reduced wear and tear and fewer premature failures. That is not only good from a repair and maintenance provider's point of view; it also benefits the customer by increasing uptime and enhancing their total operating economy."
Go Scania
You'll find hundreds of nearly new Scania trucks for sale on this site, including a variety of used R-Series and S-series models.