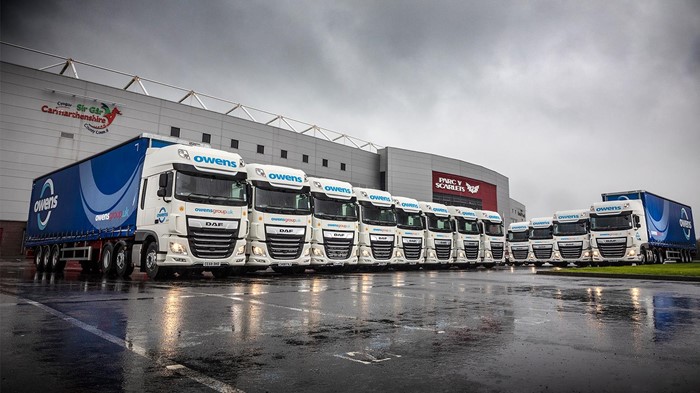 ---
Owens Group, based in Llanelli, Wales, recently bought 36 brand-new DAF XF 480 tractor units, marking the company's first DAF purchase in a decade. Each XF model features a 480-horsepower engine, and so far, Owens has seen an average fuel efficiency of just under 16 km/h. This makes them well-suited for applications "where we operate up to 44 tonnes GCW and with specialist Tall Boy 4.6-metre curtain-sided trailers," according to Eurof Owen, Owens Group commercial director. These new FTG axle models will join the Owens fleet of more than 1,100 vehicles and trailers.
"We've been operating trucks from various marques over the last decade," he adds. "We are replacing some of the fleet and also continuing to grow the fleet as part of our commitment to being 100% Euro 6. After trials on a number of different marques, the latest DAF XF was a clear winner. The 480-horespower engine and Super Space Cab combination really appealed to our drivers and their expert opinion features strongly in the ultimate buying decision. We're delighted to bring DAF back into the fleet."
Next Level Support
Another reason Owens Group decided to return to DAF is its DAFaid roadside assistance offering and the level of service received from Watts Truck & Van, based in Swansea. "We've had experience of DAFaid support previously and it remains the benchmark vehicle support and recovery service in the industry," says Owen. "We're looking forward to forming a strategic long-term partnership with the DAF brand once again."
Trial For Charity
In addition to this large order, Owens Group also recently trialled a DAF CF 370 6x2 rear-steer rigid truck weighing in at 26 tonnes. The vehicle is on loan to the Transport Association (TA) from DAF in order to support the Transaid charity. Under the agreement, "any TA member may use the vehicle in regular service in return for donations to Transaid," according to DAF.
You'll find a large selection of used DAF trucks for sale on TruckLocator, including several nearly new DAF CF and XF models.