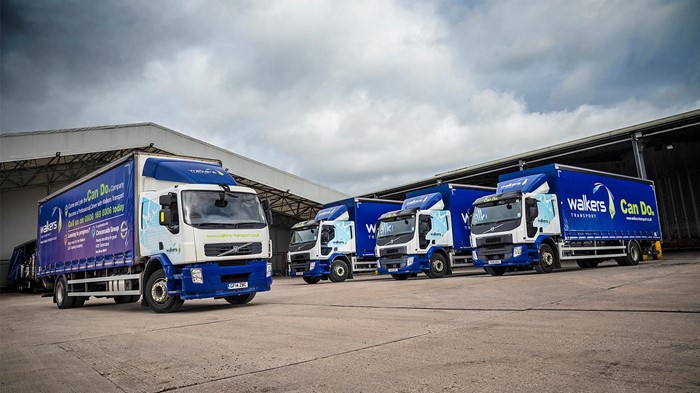 ---
Walkers Transport, a logistics company based in Leeds with locations in Manchester and the Midlands, recently purchased nine Volvo FE rigid trucks and one FE training vehicle as part of an expansion. The new trucks, a mix of 18- and 26-tonne models, join a fleet of 150 tractor units and 200 trailers. Each FE features a Volvo D8K engine, sleeper cab, and rear air suspension.
When shopping around for new vehicles, Walkers Transport was not only focused on finding a quality manufacturer, but also a dealership that could facilitate future growth plans. "A few years ago I sat down with all our local dealers and talked about what I wanted from the partnership," says Scott Hobman, operations director at Walkers Transport. "Crossroads Truck and Bus was the one that came to the party more than anyone else. Over time the partnership with Volvo gave us the reliability and service that we needed, so we therefore ordered the nine new trucks to support our expansion."
Continuing Education
Walkers Transport also decided to bring in a Volvo FE training truck to help their current drivers stay sharp as well as to expand upon their in-house training academy and bring in new talent. The Company started out by purchasing vans, hiring drivers, and then giving them the option of "working their way up to get their Class C licence," Hobman explains. The new training truck is a joint investment by Walkers and Crossroads, including co-branding designed to attract drivers and technicians, but the plans don't stop there. Hobman says the company plans to purchase an articulated truck so the company can offer C+E training as part of what he calls "the natural progression."
---
Find Your Next Volvo Truck
You'll find hundreds of quality used Volvo trucks for sale every day on TruckLocator, including a number of Volvo FE 280 and FE 320 models.