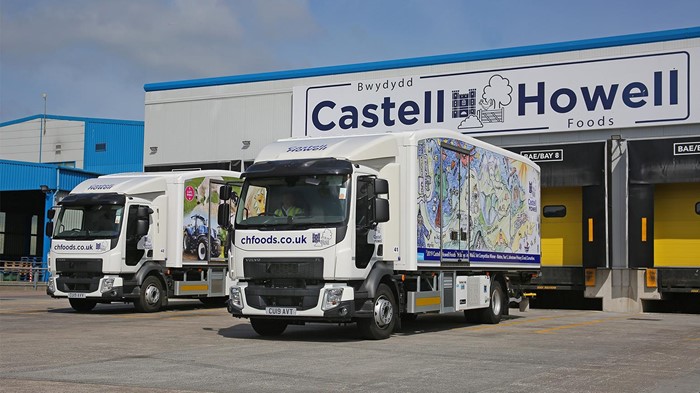 ---
Castell Howell Foods Ltd, a food service provider based in Llanelli, Carmarthenshire, recently purchased two new Volvo FL trucks, which join the company's fleet of 130 vehicles. The company has been a Volvo customer since 2006 and purchased its first tractor unit, a Volvo FH12, in 2008. Each of the trucks features a 250-horsepower D8K engine, six-speed I-Sync transmission, 7.6-metre Solomon refrigerated body, and Thermo King Hybrid refrigerated technology, the latter of which is a first for the United Kingdom.
Thermo King Hybrid
"In the past Frigoblock used an alternator/generator system, powered by the trucks' engine. That system was great when travelling down the road; but the cooling ceased if the engine was turned off after parking up in town," says Martin Jones, director of transport operations at Castell Howell Foods Ltd. "However, the new Thermo King Hybrid solution keeps the proven alternator / generator system, but when the ignition is turned off, it automatically switches over to an ancillary diesel powered refrigeration unit. When the ignition is switched back on, the ancillary cuts out instantly and it's back to electric motor power."
---


Competition Winner
One of the FL-250 trucks sports a "special billboard livery that was a result of a schools competition, based around a theme to promote holidays in Wales," Volvo explains. A student from Johnston Primary in Carmarthen submitted the winning contest entry and not only has his art featured on the side of a Castell Howell truck, but also received £2,500 for his school along with an iPad.
You will find a large selection of used Volvo trucks for sale every day on TruckLocator, including a number of FL models.