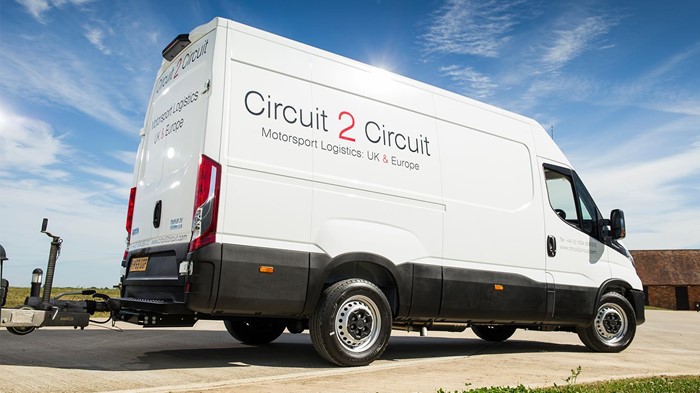 ---
Circuit2Circuit, a covered car transport company based in Northamptonshire near Towcester, recently purchased an IVECO New Daily Hi-Matic panel van supplied by Southampton-based Pitter Commercials. The 3.5-tonne van features a 3-litre F1C engine, which produces 210 horsepower (156.6 kilowatts) and 470 newton metres (346.7 pounds-foot) of torque, and a Hi-Matic automatic transmission. It also has a 3.52-metre (11.5-foot) wheelbase, 12 cubic metres (423.8 cubic feet) of cargo space, and a maximum internal load height of 1.9 metres (6.2 feet). IVECO says the company will use its new van to "transport a mix of classic, prestige, and racing cars" and hopes to keep it in operation until 2026.
Much-Needed Towing Capacity
"We regularly tow specialist car-carrying trailers, and our previous vans could only pull 2 tonnes legally. This could be limiting when we also needed to transport spare tyres, components and toolboxes too, so we needed to rethink our options," says Leigh Pettifer, owner of Circuit2Circuit. "The Daily stood out for being the only 3.5-tonne panel van on the market which also offered a 3.5-tonne towing capacity, giving us a gross train weight of a massive 7 tonnes—more than enough for even the most demanding jobs we handle. We've been so impressed with its performance, we went straight back to IVECO when the new model became available and ordered another."
---


Other New Daily Features
Circuit2Circuit's New Daily van features cruise control and a rear suspension as well as air conditioning and heated side mirrors. The engine is Euro 6D/Temp-certified and takes advantage of an engine Start&Stop system and Class A Super Eco Low Rolling Resistance tyres, both of which improve the New Daily's fuel efficiency. IVECO also extended the service intervals of the New Daily to 60,000 kilometres (37,282 miles) by installing a larger oil sump, which the company says can lead to 10% lower maintenance costs "on urban missions."
You will find hundreds of new used IVECO trucks and vans for sale every day on TruckLocator, including a big selection of IVECO Daily vans.