---
Cofco International UK, a global agribusiness with locations in Ipswich, Suffolk, and Erbistock, Wrexham, recently added five new Volvo FH tractor units to its fleet. Each of the FH 460 6x2 Lite models feature a Globetrotter cab with a Single Bed living package, alloy wheels, and alloy air tanks on a 4-metre (13-foot) wheelbase. They also have 460-horsepower (343-kilowatt) engines and I-Shift transmissions with Long Haul Fuel Economy software packages. (Volvo also offers several other software options designed for specific applications, including distribution, construction, and heavy-duty transport.)
Covered by Volvo Service Contracts, Cofco's new tractor units will be in operation for seven years. The company will couple each of the trucks with a Wilcox bulk tipping trailer for "transporting a range of grains, seeds, and fertilisers" all across the United Kingdom, according to Volvo. Dealer Volvo Truck and Bus Centre East Anglia will handle maintenance, repairs, and safety checks in the evening and have the trucks ready to go the next morning.
Up To The Task
Cofco trialled Volvo FH and FM models before making a purchase, and while both models performed well, the company ultimately landed on the FH as the "preferred choice" of its drivers, according to Tom Pountney, transport manager at Cofco International UK. The FHs are already getting rave reviews from drivers, with some saying they "are the best vehicles they've ever driven," Pountney adds. The I-Shift transmission is also receiving high marks for its responsiveness.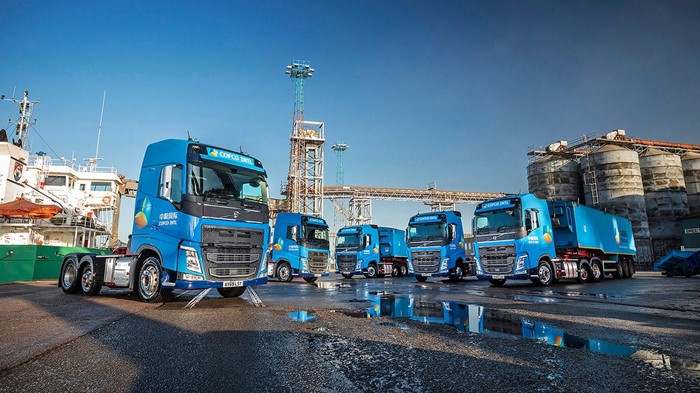 ---
Weight Considerations
"The Volvos come with a kerb weight of 8,180 kilograms. In a business where we're paid by weight carried, choosing the right vehicle is crucial," says Pountney. "We worked carefully with our Volvo Transport Solutions Executive, Matt Kubot, to get the specification right. The new FHs are 400 kg lighter than any other vehicle in our fleet."
You will find a large selection of new and used Volvo trucks, including hundreds of FH and FM models, for sale on TruckLocator.