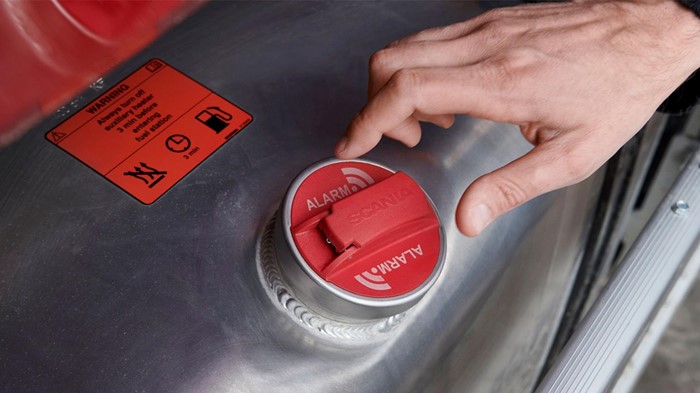 ---
Fuel theft and related damage are significant risks in many areas. To help deter thieves from trying to steal diesel from parked Scania vehicles, the company has developed the Fuel Theft Alarm cap for single fuel tanks. (A version for double tanks is in the works.)
The cap can trigger the truck's alarm system and its high-pitched audio alert when it detects tampering or a significant drop in fuel level. If the truck is equipped with Scania's Control Package, the alarm can also send an email, text message, and a warning notification to the owner via their Scania Fleet Management Portal. "The owner and driver will be alerted if the vehicle is being tampered with and the consequences of having fuel stolen can be avoided or at least mitigated," says Scania Product Manager Eric Ljunggren.
Standing Watch
The Fuel Theft Alarm can monitor the vehicle's fuel level for up to 65 hours. The truck's master battery switch must be activated during this period. To try and deter thieves from attempting to unscrew the cap in the first place—or to damage the tank, causing costly delays and repairs—the cap comes with a warning sticker for the fuel tank.
"Although the loss of valuable fuel is bad enough, it is perhaps worse that the truck cannot carry out the day's scheduled deliveries as planned and may be liable to penalties," Ljunggren says.
Find The Right Scania
You'll find hundreds of new and used Scania trucks for sale every day in TruckLocator's inviting, easy-to-use online marketplace.