---
As Storm Dennis flooded Herefordshire, swamping the village of Hampton Bishop with more than a metre of water amid "danger to life" warnings, many residents were left cut off from their homes and businesses. Tractor owners were able to reach their neighbours through the treacherous waters, but it was a local apple grower with a 28-year-old Mercedes-Benz Unimog who proved able to ferry multiple people at once.
"I was able to carry up to 10 people at a time, with hay bales in the back for them to sit on, and they were all very grateful," says Kier Rogers, proprietor of artisan cider establishment Colcombe House. The horticulturalist spent three days and two evenings delivering food and supplies and chauffeuring the locals where they needed to go.
"Many, many thanks to Kier and his fellow tractor drivers," wrote one resident on social media. "I can honestly say I don't know how all of us in the village would have managed."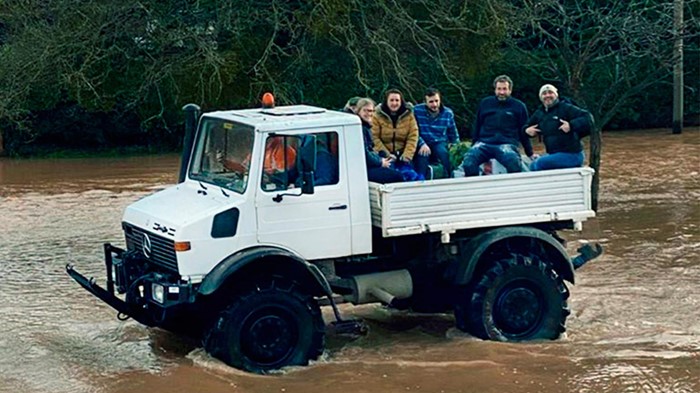 ---


Neighbours In Need
Rogers had just purchased the Unimog U1700 15 months prior for use in his apple orchards and their 400-acre environs. The vehicle is kitted out with tall, 28-inch wheel rims and agricultural tyres for maximum traction.
"I took one person to hospital, collected and delivered their thyroid tablets for another, and gave a lift to a gas fitter because the central heating had gone off at the home of a disabled child in the village," Rogers says. "I was out for 11 hours on each of the first two days of the floods, and it just went on and on."
"He really put himself out for us," said Russ Ticehurst of the locally based mobile security firm Serbus. "The offices were cut off, but it was 'mission critical' that we reach them in order to manage and maintain our servers so there was no interruption of service to our customers. Someone gave me Kier's number and he picked us up and took us in."
"I'm lucky enough to own a vehicle with exceptionally high clearance, so was only too happy to pitch in and help my neighbours in their time of need," Rogers says.
---


The Unimog Today
The all-wheel drive Unimog has been an icon for more than seven decades. One of the hallmarks of its design is its torsional flexibility: each portal axle can articulate up to 30 degrees to maintain contact with the ground over radically uneven terrain. Mercedes-Benz's current Unimog models, the U 4023 and U 5023, have respective maximum gross vehicle weights of 10.3 and 14.5 tonnes.
Because its drive shaft is encapsulated, the vehicle can ford flooded areas up to 1.2 metres deep with optional equipment. Traction is assisted by front and rear differential locks and a central tyre inflation system. Mercedes-Benz says that the U 4023 and U 5023 can climb grades of up to 100% (45 degrees).
A current Unimog can reach travel speeds of up to 89 km/h. Both models are powered by a 231-horsepower (170-kilowatt) Euro Stage VI four-cylinder engine. The common rail injection motor can produce up to 900 newton-metres of torque. Its exhaust aftertreatment system uses BlueTec 6 technology, selective catalytic reduction (SCR), and a diesel particulate filter (DPF). An engine power take-off, two PTOs on the transmission, and an available hydraulic system give the Unimog the ability to power attachments and implements.
Find The Right Mercedes-Benz
Rogers plans to add a trailer to his Unimog next summer so he can haul ripe apples to a local pressing farm—and be certain to arrive. "Wading would have been very scary in places," he said of the recent flooding, "but nothing stops a Unimog and mine performed brilliantly throughout."
Ticehurst agrees. "We're now reviewing our flood management arrangements and seriously contemplating buying our own Unimog."
TruckLocator provides a very broad selection of new and used Mercedes-Benz trucks for sale, including a number of Unimog models.