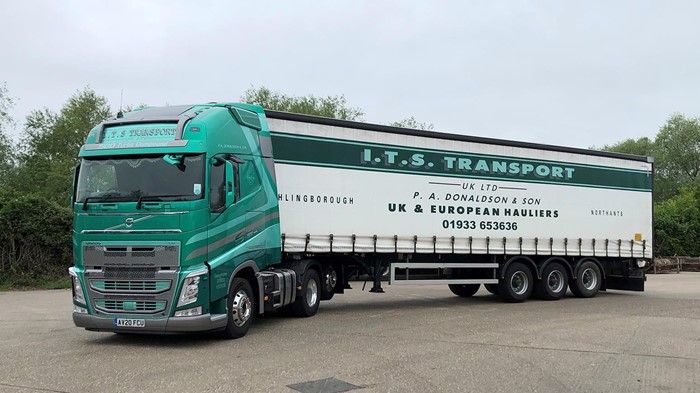 ---
Northants-based haulage firm I.T.S. Transport has added a third Volvo to its fleet of 11 trucks. The new acquisition is an FH 6x2 tractor with a Globetrotter cab and fuel-conserving features such as a turbo-compounding engine and Volvo's I-Save system. I.T.S. plans to put more than 100,000 kilometres (62,000 miles) on the new Volvo FH each year hauling flour and general cargo.
"We considered a number of options when looking for our latest addition, but Volvo won the deal for its fuel efficiency and lower total cost of ownership," says Transport Manager David Donaldson. "Our trucks cover a lot of ground, so we need the confidence they are going provide us with the best fuel efficiency on every single journey. Volvo's turbo-compounding technology was a major pull for us and we're looking forward to seeing the savings at the pumps."
---


Fuel-Saving Features
The turbo-compounding D13TC engine in the new FH uses an extra turbine to turn exhaust gas energy into impetus for the flywheel. The Euro 6 Step D-compliant motor also uses specially shaped pistons that focus heat and energy in the centre of each cylinder. By thus providing 300 newton-metres of additional torque, the engine reduces fuel requirements for maintaining long-haul speeds. I.T.S.'s Volvo FH also came with a more fuel-efficient rear axle, a Long-Haul fuel package, and the latest I-See predictive cruise control system, which uses road map data to optimise gear shifts.
Volvo FH Trucks
Volvo designs the FH series for minimum air resistance and maximum uptime. The truck comes with your choice of five sleeper cab configurations ranging from a flat top to high-roof Globetrotter variants. Besides the tractor mentioned above, the FH is also available as a rigid truck. Engine options include six-cylinder diesels ranging from 420 to 540 horsepower (313 to 403 kilowatts) and 2,100 to 2,800 N-m of torque. The truck comes in axle configurations ranging from 4x2 all the way up to 10x4.
---


Keep The Driver Happy
"Our driver is a big fan of Volvo as well," Donaldson says. "We wanted a truck that we knew he would be happy in and he has always specified Volvo as his favourite to drive."
Truck Locator offers a bounty of new and used Volvo trucks for sale including a large selection of FH-series models.