---
Elliott's Upper Crust Catering Services Ltd has spent the last year upgrading its entire fleet to Isuzu vehicles, all 20 of which are Isuzu Grafter SWB N35.125 trucks with temperature-controlled bodies from Jiffy Banquet. Each of the 3.5-tonne cab-and-chassis Grafters features a 1.9-litre Euro 6 engine and a six-speed manual transmission.
The trucks will operate five days a week performing multi-drop deliveries of cold and hot items within an 18-mile (30-kilometre) radius of the company's Canvey Island, Essex, headquarters as well as taking longer journeys to locations up to 100 mi (161 km) away. Elliot's hopes to keep the trucks in operation for at least four years.
Reliability Is Key When Delivering Food & Drinks
"Since we took delivery of our first Isuzu, we have been really pleased with them as they are proving to be extremely reliable in service, which as you can imagine is essential for our business," says Laura Elliott of Elliott's Upper Crust Catering Services Ltd. "Not only that, our drivers find them really easy to drive plus they are a stylish, good-looking vehicle that creates a very positive impression with our customers."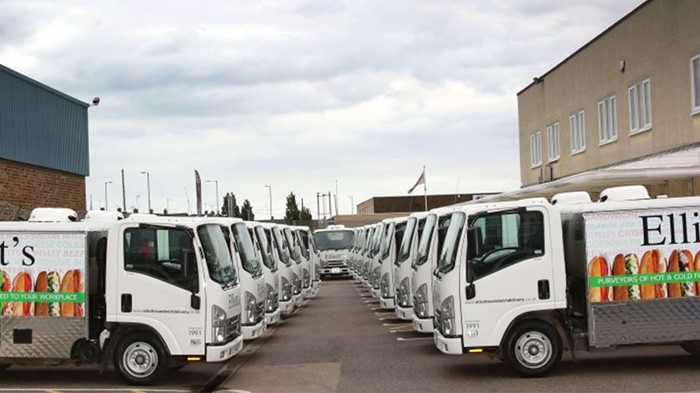 ---


More Isuzu Grafter N35.125 Details
The Isuzu Grafter N35.125 is a 4x2 rigid chassis cab with a gross vehicle weight of 3,500 kilograms (7,716 pounds) and a maximum trailer weight of 3,500 kilograms as well. This model is also available with a dropside body, tipper body, or with a tipper body and tool kit in the N35.125(T) Utilitruck configuration. There are also options for configurations with single or dual rear wheels.
All of the models in the range feature Isuzu RZ4E turbo-intercooled DOHC four-cylinder diesel engines with lean NOx (nitrogen oxide) traps that produce 90 kilowatts (121 horsepower) and either MVC6W synchromesh six-speed manual or Easyshift automated transmissions.
Find The Right Isuzu Truck
There is a large selection of new and used Isuzu trucks for sale on Truck Locator that includes a number of D-Max, Grafter, N75, and NQR models.