---
Premier Logistics, a palletised distribution and warehousing specialist based in Bardon, recently purchased three Volvo FH trucks, two with 460-horsepower (343-kilowatt) D13TC Euro 6 engines and one with a 500-hp (373-kW) engine. Premier Logistics spec'd the 460-hp pair with I-Save, which includes predictive cruise control, long-haul software for the I-Shift transmission, and an I-See technology "that analyzes and adapts to gradients in the road ahead," Volvo explains. So far, the FH460s have achieved an average fuel efficiency of 11 miles per gallon (4.8 kilometres per litre), an increase of 1.5 mpg (0.64 km/l) over other trucks in the company's 50-vehicle fleet.
"Like any transport operator, we are always looking for ways to reduce our fuel bills and these new Volvos should certainly help us," says Lee Christopher, managing director of Premier Logistics. "They haven't been in service long, so for the two 460 turbo compounds to already be averaging 11 mpg is pretty impressive. We always consider different manufacturers when we are adding to the fleet, but we selected Volvo for their strong residual values and, most importantly, the fuel savings they could give us."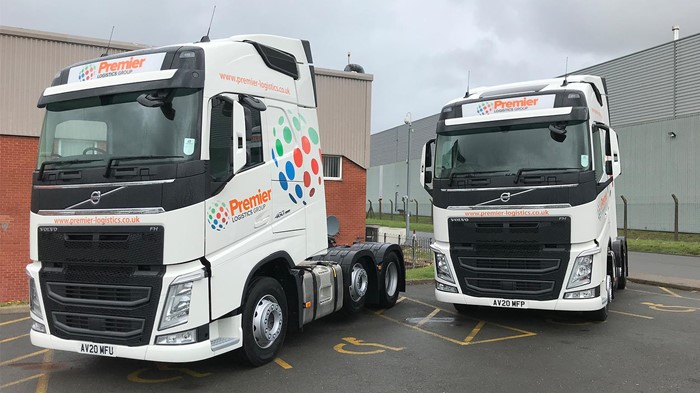 ---


Shared Features, Different Applications
All three of the Volvos in Premier Logistics' most recent order have Globetrotter cabs, I-Shift transmissions, and 3,900-millimetre wheelbases. The company expects them to cover roughly 140,000 km per each year while on the road six days a week for five years. One of the 460-HP FHs will deliver food and confectionary items, while the other will transport aluminium extrusions. The FH500 will move heavier loads during day and haul a double-deck trailer at night.
---


More Volvo FH Details
Volvo designed the FH series for minimum air resistance and maximum uptime. The truck comes with your choice of five sleeper cab configurations ranging from a flat top to high-roof Globetrotter variants, and is available in tractor and rigid configurations. Engine options include six-cylinder diesels ranging from 420 to 540 HP (313 to 403 kW) and 2,100 to 2,800 N-m of torque. The truck comes in axle configurations ranging from 4x2 all the way up to 10x4.
There are hundreds of new and used Volvo trucks for sale on Truck Paper, including not only FHs, but also FLs, FMs, and FMXs.